Hyundai Elantra Electric Concept at the 2012 Detroit Auto Show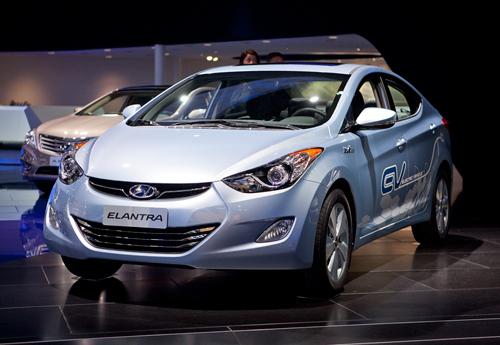 Looks like: The gas-only Elantra, with a big helping of EV stickers
Defining characteristics: All-electric drivetrain, 124-mile range, 27-kilowatt-hour lithium-polymer battery pack, 90 mph top speed
Ridiculous features: In the past, maybe the electric drivetrain, but no more
Chance of being mass-produced: Hyundai says this is just a concept for now
Not to be left out of the electric-vehicle frenzy, Hyundai showed an all-electric version of its Elantra compact sedan at the 2012 Detroit auto show. It's purely a concept car at the moment, but it's yet more evidence of the weight automakers are giving to electric cars.
More 2012 Detroit Auto Show Coverage
If it weren't for the elaborate graphics the Elantra Electric wouldn't have trouble blending in with its gas-only counterpart. The concept also gets a few extra badges, slightly different wheels and a unique Hyundai badge on the grille.
The big changes, however, are beneath the sheet metal, where the conventional four-cylinder powertrain has been swapped with an electric drivetrain. It consists of an 80-kilowatt motor powered by a 27-kilowatt-hour lithium-polymer battery pack. Hyundai claims the combination provides a driving range of 124 miles. The 6.6-kilowatt onboard charger enables a depleted battery to be replenished in five hours on 220-volt service, according to Hyundai.