Lexus LF-LC Concept: Up Close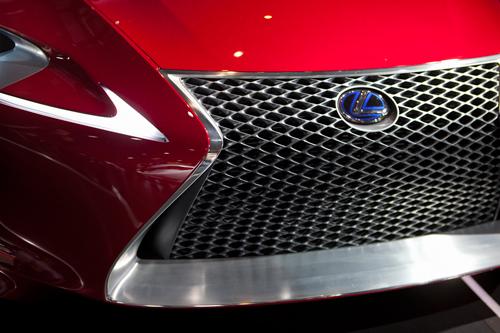 The LF-LC is a look at the future of Lexus design channeled through a four-seat sports car concept. The car is still very much a concept but looks like a finished product with great attention to detail; some concepts are merely an empty shell with tinted windows. While not production ready, the LF-LC looks complete enough to pass as one of those one-off supercars included with the purchase of a multimillion-dollar yacht.
More 2012 Detroit Auto Show Coverage
Stand-out features are on every corner, including taillights inspired by a jet engine's afterburner. The taillights have a 3-D-like effect that ripples through the housing. I'm not sure it lives up to an afterburner, but it's certainly a cool effect. At first glance the glass roof looks like it's not attached to any fixed point of the chassis. I'm sure the people at Lexus would be horrified at the thought of the Insurance Institute for Highway Safety conducting a roof-strength test on this car.
The interior looks even wilder in person than in photos. The main instrument cluster must have been a result of the designers channeling Tony Stark or at least the movie version of Stark. The speedometer in the main gauge cluster has depth with multiple levels of information displayed, plus it's interactive and data can be shared between the main cluster screen and another display on the dashboard.
Along with the colorful gadgetry is an odd juxtaposition of natural colors and high-quality, stitched materials on the seats and across the interior. While only a design study for now, the LF-LC Concept has numerous new ideas that make the coupe a spectacle on the auto show floor.