Nissan e-NV200 Concept at the 2012 Detroit Auto Show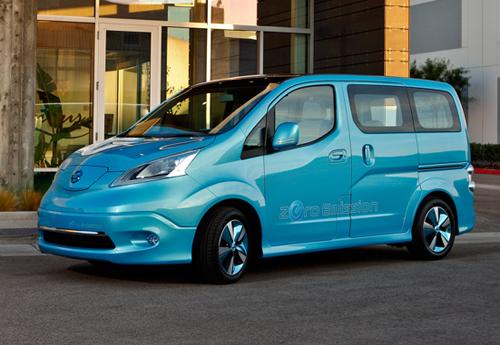 Looks like: A Leaf-themed bread toaster
Defining characteristics: Leaf charging door in nose, glass roof panels, Leaf-like range
Ridiculous features: Two-tone, body-colored wheels
Chance of being mass-produced: Nissan calls this a preview of a "near-future production version"
Nissan's e-NV200 is an all-electric version of its NV200, a small, front-wheel-drive commercial van that is slated to become New York City's official taxi cab in 2013. Compared to the four-cylinder taxi version, the electric e-NV200 Concept is gussied up with styling and interior cues similar to the electric Nissan Leaf.
More 2012 Detroit Auto Show Coverage
This concept's electric innards are also borrowed from the Leaf and give the e-NV200 a similar range, Nissan says. The range of Cars.com's long-term 2011 Leaf hovers around the EPA's travel rating of about 73 miles per full battery charge.
The e-NV200 Concept is mainly targeted toward businesses, but Nissan also hopes families and private users will take interest. The concept's interior looks ready for hauling neighbors and hardware supplies instead of taxi patrons with its Leaf-like color tones, pair of glass roof panels and monitoring screens. The center dashboard houses a large screen that Nissan says functions like a tablet computer to control radio, navigation, climate controls and more.
The e-NV200 Concept's platform is, at heart, a commercial vehicle, and Nissan retained the current NV200's payload and cargo space with the e-NV200. The van's global specifications rate payload at 1,700 pounds and roughly 145 cubic feet of maximum cargo space, which is similar to most minivans. Even with its large cargo capacity, the overall length is only about 5 inches longer than the Nissan Leaf hatchback, though it's considerably taller.
Evaluations of e-NV200 prototypes are already happening. Over the summer, the Japan Post Service put a prototype through delivery and collection duty, and more testing is happening in London through a partnership with FedEx.
Clicking on any image below will launch a larger photo gallery; you can browse through them by hitting the right and left arrow keys.