Shoppers Say Chevy Volt Expensive, Nissan Leaf Ugly in Study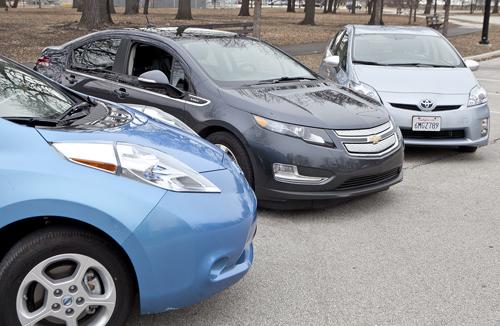 Despite their small share of total vehicle sales, the Chevrolet Volt, Nissan Leaf and Toyota Prius garner a lot of attention from new-car shoppers, according to J.D. Power and Associates' 2012 Avoider Study.
The study finds that gas mileage is the most important attribute shoppers are looking at now, surpassing older key reasons such as exterior styling, reliability and price.
That puts the Volt, Prius and Leaf in a good position as each are among the most fuel-efficient cars in the country.
The Prius recorded about 140,000 sales in 2011, but the Volt and Leaf weren't particularly big sellers last year. There are a lot of reasons for that, ranging from startup issues, the earthquake and tsunami in Japan, and other supply constraints. However, there are other issues besetting the fortunes of these green machines, according to the study.
Consumers think the Volt costs too much and that's why a lot of shoppers avoid the plug-in hybrid, according to the study. When people decide to skip over the Leaf or Prius, the most cited reason is the styling is unattractive.
Other shoppers said the Volt's and Leaf's diminutive cabins and lack of cargo space as reasons to avoid the vehicles. Shoppers don't like the Prius' performance, either.
For people who like the Volt, the most cited reason is its impact on a person's image; that's a good shout-out to Chevrolet's successful marketing campaign. The most cited reason for buying a Leaf is its low maintenance costs, and for the Prius, its reliability.
Other highlights of the study show that few Americans are avoiding domestically built cars, with only about 6% of respondents seeing it as a deterrent. The opposite is true for imported vehicles; about 14% of shoppers avoid imported vehicles, the highest level ever recorded by the study. That's probably due to the economic recession and the loss of domestic jobs, says J.D. Power.
Overall, some 43% of shoppers say they'll avoid an entire brand based on its perceived quality and reliability despite whether a given model within the lineup is reviewed well by car experts.