Top 10 Best-Selling Cars: December 2011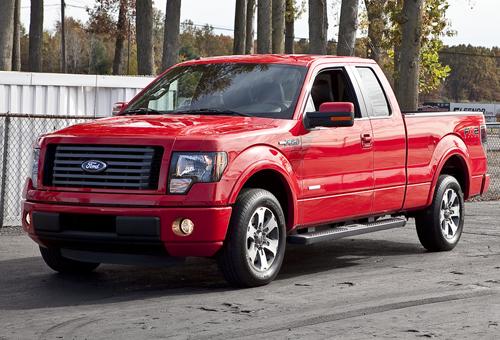 The holidays sent car shoppers back to family cars, SUVs and pickup trucks as most major automakers outpaced analysts' expectations to finish the year. The top 10 sellers for the month include five pickups and SUVs and five cars, which is a similar mix to December 2010.
Top 10 Best-Selling Cars of 2011
The Ford F-Series, Chevrolet Silverado and Chrysler's Ram pickups closed 2011 strong; Ford said the F-Series had its best December since sales-heady 2006. SUVs, meanwhile, remained popular: The discount-laden Ford Escape sold more than in any December since the small SUV arrived more than a decade ago, and Jeep cranked out more than 17,000 Grand Cherokee sales, marking the SUV's best December since 2005. The Grand Cherokee nearly made the top 10 list, which would have been its first placement since we began tallying the monthly top 10 in January 2009. The Ford Explorer and Jeep Wrangler — both up more than 35% — saw outsized gains, and even aging models like the Nissan Rogue (up 18.6%) did well. The misfires? The Chevrolet Equinox, down versus a strong December 2010, as well as the aging Toyota RAV4. The Honda CR-V's fourth generation hit dealers in mid-December, but sales remain down, too.
Despite gas costing 22 cents a gallon more than a year ago, fuel-efficient small cars are all over the map. The Ford Focus and Chevy Cruze saw double-digit increases, but the Hyundai Elantra and Toyota Corolla stagnated and the Honda Civic fell 27%. Honda's doldrums extended to the Accord, down 40%. It didn't make the top 10 for the second month running.
The Accord and Ford Fusion were exceptions among family cars, which did well on the whole. The redesigned Toyota Camry remains America's best-selling car, staving off Nissan's suddenly popular Altima. Its popularity is peculiar because the current car is as old as January eggnog, and Nissan isn't piling on dramatically more discounts than it did a year ago. Other successes ranged from the red-hot Kia Optima (up 245%) to the aging Chevy Malibu (up 13.1%).
Of the seven major automakers, five posted huge gains, and even Toyota — widely expected to post a December sales loss — remained flat. With sales up 4.5%, GM remained America's best-selling automaker in December. Touting the first three-point market share gain over three consecutive years since 1970, Ford sales rose 10% for December, securing a strong second place. Toyota kept pace for third, while an 83% increase in the Chrysler brand and 41% gain in Jeep drove Chrysler to fourth. Flagging Honda, down 18.8%, stayed barely ahead of Nissan and Hyundai/Kia, which round out the top seven.