Totally New Chevrolet Silverado, GMC Sierra Coming Next Year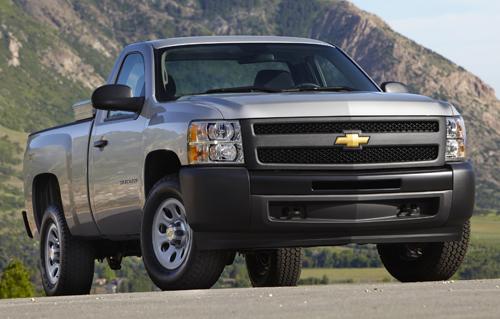 If you're shopping in the highly competitive pickup truck market, expect to see a completely redesigned Chevrolet Silverado and GMC Sierra next year, according to our friends at PickupTrucks.com.
The Chevy Silverado 1500 and GMC Sierra 1500 were last redesigned in 2006. They got a new body, frame and suspension. This time around, expect more of the same. We should see a totally new exterior and interior design, a new frame and heavily revised engines, PickupTrucks.com reports.
GM is also focusing a lot of engineering resources to make the two trucks lighter. A PickupTrucks.com source says GM is aiming to shave 500 pounds off the new trucks to hit new fuel economy targets. A regular 2012 Chevrolet Silverado XFE gets 15/22 mpg city/highway and weighs more than 5,000 pounds.
Spy shots of the new Silverado
provided to PickupTrucks.com seem to indicate the truck will have a larger greenhouse. It's hard to tell anything else, though, because of the camouflaging.
Another interesting tidbit are the rumors that GM will further distinguish the Sierra from the Silverado. Reports suggest that not only will the Sierra get more styling enhancements over the current model, but it might also get its own truck frame, different from the one used on the next-gen Silverado. The unique frame would allow engineers and marketers to further distinguish handling and packaging attributes. That would be a significant change for GMC; right now the "Professional Grade" brand is composed of nothing more than slightly warmed-over Chevrolet trucks, SUVs and crossovers.
We'll have more info about the two trucks when they are revealed, which will likely happen sometime early next year.
2014 Silverado/Sierra Has Big Changes (PickupTrucks.com)