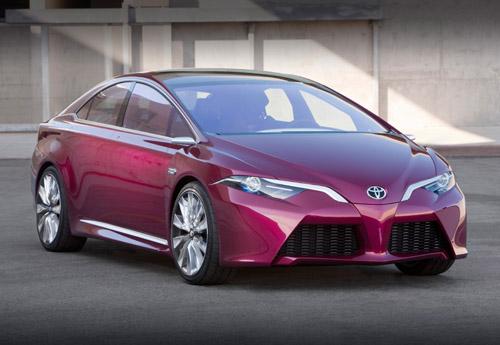 Looks like: An Alpha Romeo
Defining characteristics: Swan-wing doors, dearth of buttons, ambitious goals
Ridiculous features: Attempts to solve everything but world peace
Chance of being mass-produced: Something here might appear by 2015
More from the 2012 Detroit Auto Show
Toyota's NS4 plug-in hybrid concept is amazingly efficient — not simply fuel efficient, it attempts to solve a bunch of challenges in one package. Toyota says the concept investigates:
A new styling direction for the brand
The next-generation of Hybrid Synergy Drive
A new way of integrating entertainment and connectivity
A new era of active safety systems
Toyota says the styling is intended to move the brand in a more sporty direction, which is a major initiative. Although Toyota is just now rolling out its first plug-in hybrid, the Prius Plug-in, the NS4 tries to address many areas for improvement, including reduced component size and weight and increased efficiency. No specs were given, but the NS4 also raises the all-electric range and lowers charge time.
In an attempt to get modern, the NS4 puts MyFord Touch to shame by eliminating almost all physical buttons. More functions than ever are incorporated into a large touch-screen. Developed with Microsoft, Intel and Salesforce, the system is claimed to minimize distractions.
The NS4 has a variety of lane departure and collision mitigation systems. Perhaps the most appealing feature, if expensive, is a pop-up hood structure that lifts the rear of the hood in case of pedestrian contact. This provides crush space to protect the poor guy. Even if you don't worry about pedestrians, or care about their well-being, this would be a great way for automakers to design their cars for looks. Currently, pedestrian-crash requirements around the globe are forcing automakers to build their vehicles' hoods higher, styling be dammed.
Clicking on any image below will launch a larger photo gallery; you can browse through them by hitting the right and left arrow keys.