Volkswagen E-Bugster at the 2012 Detroit Auto Show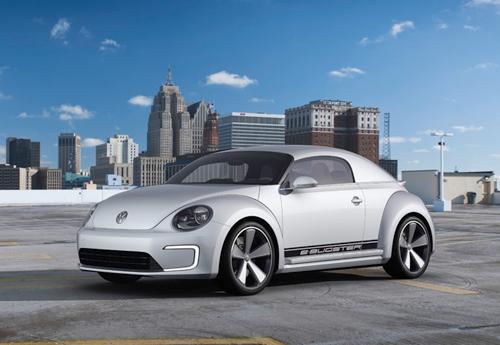 Looks like: Some led-sled enthusiasts got their hands on a Volkswagen Beetle
Defining characteristics: Chopped roofline, all-electric drivetrain
Ridiculous features: Huge rear roof pillars
Chance of being mass-produced: Count on the electric drivetrain making it to a production car
Volkswagen showed what a high-performance version of its Beetle could look like with the Beetle R Concept, and now it's fashioned an all-electric Beetle concept dubbed E-Bugster. The name is a combination of the American nickname for the Beetle and the word "speedster" — even though the concept isn't a convertible. No matter; the name is catchy.
More 2012 Detroit Auto Show Coverage
From the beltline down, the E-Bugster looks very similar to the redesigned-for-2012 Beetle hatchback. The roofline, though, is dramatically different, with a flattened design that gives the concept a chopped look. Wide rear roof pillars give the sides of the car a clean look, but they look big enough to block a large chunk of over-shoulder visibility. Flared fenders surround 20-inch five-spoke wheels.
The E-Bugster is driven by a 114-horsepower electric motor that makes 199 pounds-feet of torque. Power comes from a lithium-ion battery pack that provides a driving range of more than 100 miles, according to Volkswagen. Though the E-Bugster itself may be a concept, this drivetrain is destined for the forthcoming Golf Blue-e-Motion production car, among others.
Clicking on any image below will launch a larger photo gallery; you can browse through them by hitting the right and left arrow keys.