Volkswagen Goes to the 'Bark Side' in Teaser Ad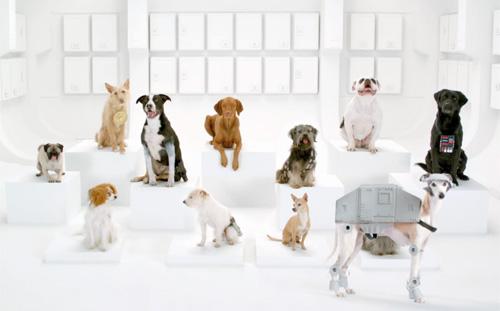 To quote Darth Vader, "The Force is strong with this one." Volkswagen is creating lots of buzz with its latest "Star Wars" based TV commercial, "The Bark Side," which aired on ABC last night and can be found on its YouTube channel.
The 60-second commercial features dogs barking the "Imperial March (Darth Vader's Theme)." Not content with a canine sing-along, the ad features the pups dressed as an Ewok and Chewbacca (naturally). There's also what looks to be a black Labrador retriever wearing Vader's unmistakable chest plate. The piece de resistance is the dog dressed as an AT-AT. Brilliant.
Volkswagen told AdWeek that "The Bark Side" isn't its Super Bowl ad. " 'The Bark Side' teaser was created to hint toward some of the exciting elements and characters that will be in the Super Bowl spot."
Last year, VW's Super Bowl XLV ad, "The Force," featured a pint-size Darth Vader trying out his (or her) force skills on various household object without any success. Mini Darth is blown away when the Force suddenly works on the family's Passat, which Darth's dad (not the Emperor) starts using his trusty key fob. The ad was a favorite with families and "Star Wars" fans.
Watch both videos below, and tell us in the comment section below what "Star Wars" themes you're hoping to see in the automaker's Super Bowl XLVI commercial.
Dogs Bark the 'Imperial March' in Volkswagen Super Bowl Teaser, AdWeek