2012 Audi R8 GT Spyder Starts at $210,000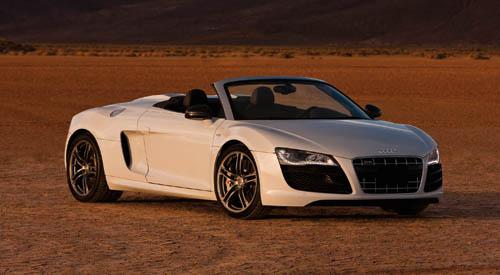 Save your pennies, R8 fans. Audi just announced a base price of $210,000 for the limited-edition GT Spyder version of its R8 supercar. Tack on an extra $1,200 for the destination fee and anywhere from $2,000-$3,000 for the gas-guzzler tax.
Audi says the hand-built droptop R8 goes from zero to 60 mph in just 3.8 seconds, thanks to its 560-horsepower, 5.2-liter V-10. Its top speed is 197 mph. R8 GT Spyder-specific features include unique 19-inch wheels, carbon-fiber exterior mirrors and interior trim, aluminum doorsill inserts, R8 GT badge on the steering wheel, sport seats in Alcantara leather and a carbon-fiber spoiler.
Audi is producing 333 units, but only 50 of those will be for sale in the United States. Each car sold here will have its production number displayed on the gearshift. Customer deliveries begin this month.