2012 Land Rover Range Rover Sport: Car Seat Check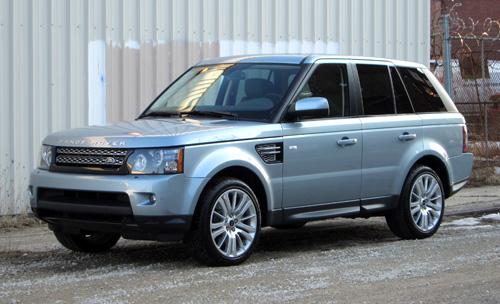 For parents looking to seal their social status with a car that maintains its off-road abilities, look no further than the 2012 Land Rover Range Rover Sport. It's not nearly as sleek as its sibling, the 2012 Land Rover Range Rover Evoque, but this five-passenger SUV has a certain ruggedness for those looking for off-road adventures.
For the Car Seat Check, we use a Graco SnugRide 30 rear-facing infant-safety seat, a Britax Roundabout convertible child-safety seat and Graco high-back TurboBooster seat.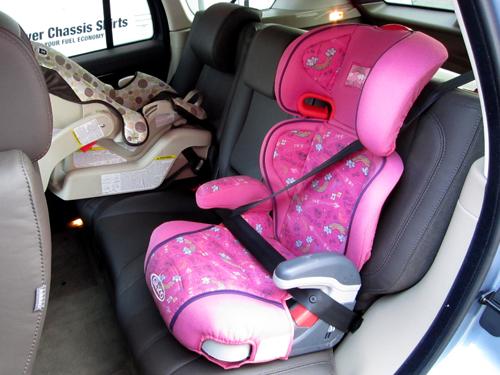 The front seats are adjusted to a comfortable position for a 6-foot driver and a 5-foot-8 passenger. The three child seats are installed in the second row. The booster seat sits behind the driver's seat, and the infant seat and convertible seats are installed behind the passenger seat. We also install the infant seat in the second row's middle seat with the booster and convertible in the outboard seats to see if three car seats will fit. If there's a third row, we install the booster seat and a forward-facing convertible.
Here's how the 2012 Range Rover Sport did in Cars.com's Car Seat Check:
Latch system: The Range Rover Sport has two sets of lower Latch anchors in the outboard seats. A leather flap, which spans the seat, covers the anchors. Once lifted, it's easy to access them. Three tether anchors are found at the base of the second row's seatbacks. They're covered by a flap that needs to be pulled back to use the anchors.
Booster seat: The backseat's seat bolsters pushed our high-back booster seat toward the middle of the second row. The booster had a tendency to overrun the seat belt buckle, which is recessed in the bottom seat cushion.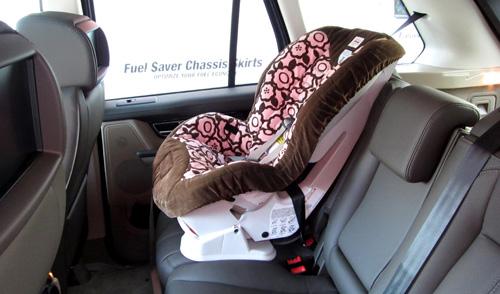 Convertible seat: Both the forward- and rear-facing convertible fit well in the Range Rover Sport.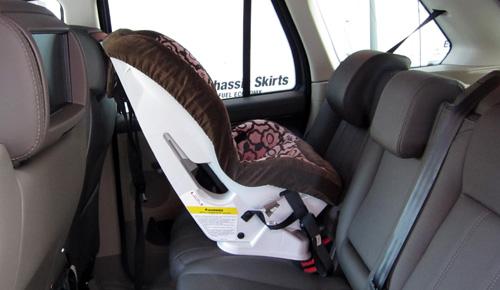 Infant-safety seat: We had to move the front passenger seat forward a little to get this rear-facing car seat to fit in the Sport's second row. The front passenger still had plenty of legroom, though.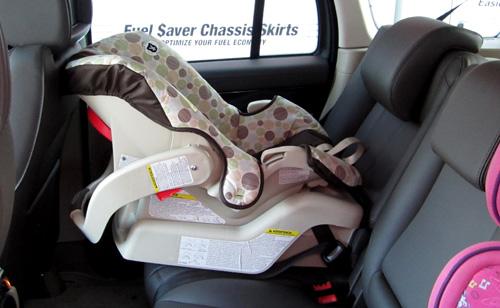 How many car seats fit in the second row? Two
Editor's note: For three car seats — infant-safety seat, convertible and booster seats — to fit in a car, our criterion is that a child sitting in the booster seat must be able to reach the seat belt buckle. Parents should also remember that they can use the Latch system or a seat belt to install a car seat.