2013 Ford Shelby GT500 Convertible: Up Close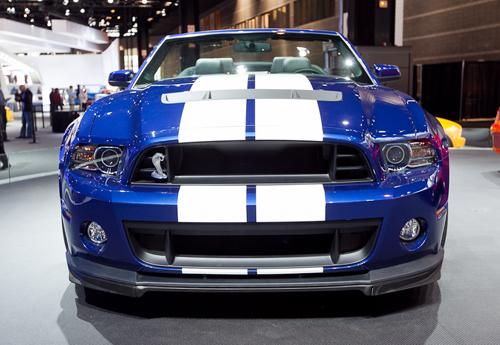 For Ford, the Mustang is a constant work in progress, and the 2013 Shelby GT500 convertible is the recipient of the automaker's latest design tweaks. Gaping upper and lower grilles, a front splitter and a domed hood define the front of the Shelby GT500 and hint at the supercharged V-8 that powers it. One of the car's most distinctive features is its paint job, as the show car was finished in metallic blue with white racing stripes.
2012 Chicago Auto Show Coverage
When lowered, the top can be finished with a soft tonneau cover that helps streamline the rear of the car. The racing stripes continue over the trunk and down the tail, which has four exhaust tips tucked nicely under the bumper. The springboard-style rear wing is a little excessive, even for a performance car, but the five-spoke 20-inch wheels look great in a dark chrome finish.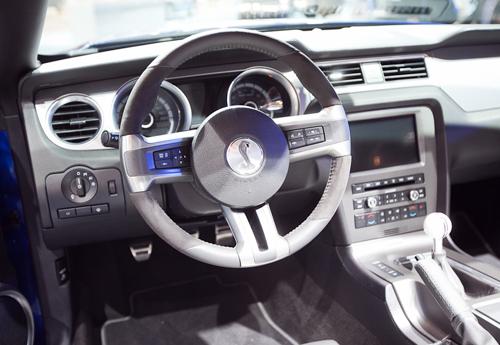 Subtle cues in the cabin set the Shelby GT500 apart from regular Mustangs. They include unique gauges and a Cobra badge on the steering wheel. The white ball shifter with black stripes provides a nice contrast to the white racing stripes. The car also has illuminated sill plates with the SVT logo that commemorates 20 years of the sub-brand.
With 650 horsepower and a top speed of more than 200 mph, you have to wonder if this is the pinnacle of Mustang performance -- especially with an era of higher mandated fuel economy around the corner. If it is, this convertible isn't a bad swan song.