2013 Hyundai Elantra Coupe: Up Close
The Hyundai Elantra coupe is a big small coupe. What does that mean? Well, even though there are two fewer doors than the sedan, not much interior room is lost and it feels that way when sitting in the new model.
More 2012 Chicago Auto Show Coverage
Up front, the seats have more pronounced side bolstering than the sedan. It ain't no Mitsubishi Lancer Evolution with optional Recaro-brand seats, but these seats also aren't intrusive and give the coupe's interior a sportier look than the sedan. Underneath, the coupe has a new suspension tuned toward the sporty side, so the bolsters that hold the driver in place during cornering aren't superfluous compared to the comfort-tuned sedan.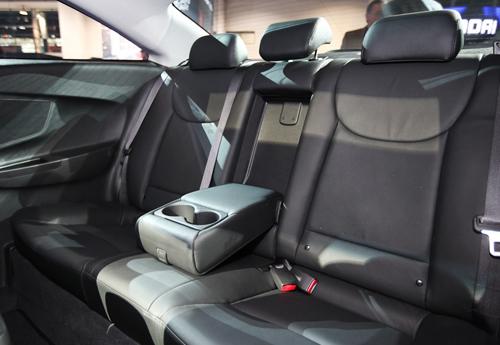 Sitting in the backseat, my hair was brushing against the headliner, but I wasn't hunched over or squeezing my legs against my chest. I'm 6 feet tall and when I had the driver's seat positioned where I normally sit, getting in the back was more or less falling into position. Most coupes this size haven't solved that problem, though.
Despite being a coupe, the Elantra's trunk is just as functional as the sedan's with an equal amount of cargo space, 14.8 cubic feet. The trunk is wide and flat with a large opening, and it doesn't sacrifice room like other coupes do compared to their sedan counterparts.