2013 Nissan NV200 at the 2012 Chicago Auto Show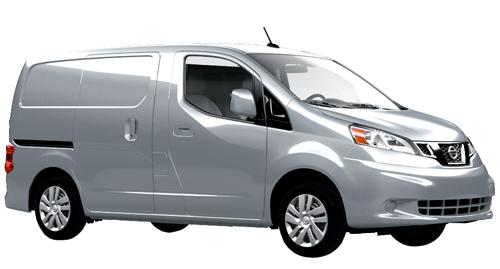 Competes with: Ford Transit Connect, Ram C/V
Looks like: A snub-nosed minivan from the '80s
Drivetrain: 2.0-liter four-cylinder; continuously variable automatic transmission
Hits dealerships: Early 2013
First, there was the Ford Transit Connect and then the Ram C/V, and now the 2013 Nissan NV200 will join the small, light-duty commercial van marketplace.
You may have seen the 2013 Nissan NV200 before, especially if you live in New York City. The compact cargo van was selected to be the Big Apple's next-generation taxi cab late last year. The model was also presented in an electrified version, known as the e-NV200, at the 2012 Detroit auto show.
The gas model will be powered by a small 2.0-liter four-cylinder engine and a continuously variable automatic transmission; there's a similar setup on most Nissan Sentra models. Don't let the small displacement fool you. Nissan says the model can carry up to 1,500 pounds, which is 100 pounds short of the Transit Connect's capacity. Unlike the Transit Connect, the NV200 can only seat two people; Ford's van can be configured to carry five people. We expect Nissan to eventually come out with a passenger version of the model to complement its other commercial van, the full-size
NV series
.
Overall, the mini cargo van has 123 cubic feet of cargo space, which is 6.6 cubic feet less than the Transit Connect and 21.4 less than the Ram Cargo Van.
The NV200's diminutive size does have its advantages, though. Nissan says the model will offer the "best possible fuel economy and an affordable price."
The model comes standard with dual sliding doors, 40/60-split rear doors, a six-way manual adjustable driver's seat, power windows, laptop/file hanging storage and 12-volt plugs on the instrument panel and rear console area. Available features include a navigation system, Bluetooth connectivity, backup camera and a multimedia system called Nissan Fleet Tracker, which can be used for business logistics.
The model goes on sale in early in 2013. Pricing, fuel economy and power specs weren't made available at the reveal.