2013 Volkswagen Beetle TDI at the 2012 Chicago Auto Show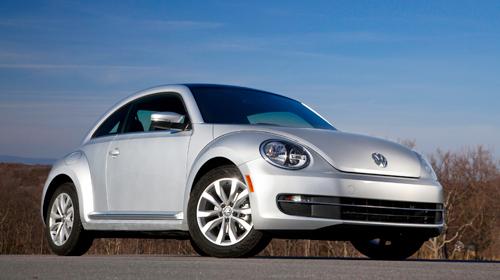 Competes with: Mini Cooper, Fiat 500
Looks like: Identical to every other Beetle
Drivetrain: 140-hp, turbocharged 2.0-liter diesel making 236 pounds-feet of torque; six-speed manual or dual clutch automatic transmission
Hits dealerships: This summer
Volkswagen has had great success with its diesel lineup of TDI models, especially the Jetta and its 42 mpg highway rating. The Beetle TDI, however, is estimated to get 29 mpg in the city and 39 mpg on the highway despite using the same turbocharged 2.0-liter four-cylinder diesel power plant as the Jetta.
We've been impressed with the redesigned Beetle's interior space, quality materials and design but nonplused by its mediocre mileage. The TDI certainly makes it more attractive for the gas conscious out there while still producing an impressive 140 horsepower and 236 pounds-feet of torque.
Pricing will play a big part in the decision-making process of the model, but the company says it won't reveal the cost of the three trim levels until closer to the on-sale date this summer.
The Beetle TDI comes with more standard equipment than the gasoline Beetle base model as well as two additional trim levels listed below.
The Beetle TDI comes standard with 17-inch wheels, leatherette seating, Bluetooth connectivity, leather-wrapped steering wheel with audio controls, keyless entry and push-button start, eight-speaker stereo and USB input.
The Beetle TDI with Sunroof adds a panoramic sunroof and six-disc premium stereo with a touch-screen display.
The Beetle TDI with Sunroof, Sound and Navigation adds a 5-inch touch-screen navigation system and a Fender premium stereo with subwoofer.