California's Carpool Lane Reopens to Solo Volt Drivers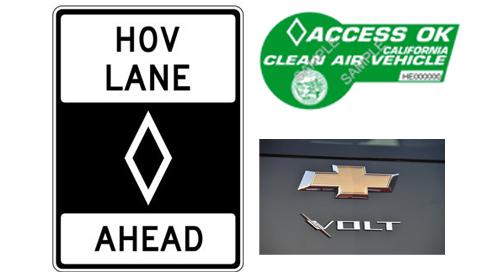 Chevy Volt
buyers in California get a few perks this year: They can again drive solo in the state's high-occupancy vehicle lanes, thanks to a new low-emissions version of GM's extended-range electric vehicle. Residents of the state also can get a $1,500 rebate after buying the new 2012 model.
Cars carrying two or more people are allowed to use California's HOV lanes, and driving solo in them used to be a privilege reserved for hybrid car owners. New rules that took effect last July, however, allow only drivers of electric and compressed-natural-gas vehicles to use the lanes without a passenger. Volts with the Low Emissions Package, which is standard for the California market, are now eligible thanks to modifications that make the vehicle meet California's strict low-emissions standards.
California has more than 1,400 miles of carpool lanes, and drivers who use them save an estimated average of 36 minutes a day in their commutes, according to GM. Owners of 2012 Volts can apply for a green sticker designating their HOV status. The stickers are available to the first 40,000 applicants who buy or lease cars that meet the state's requirements for advanced technology partial zero-emission vehicles (AT PZEV), says the California branch of the EPA.
In addition, California owners of the 2012 Volt can get up to $1,500 under the state's Clean Vehicle Rebate Project. This is in addition to a federal tax credit of up to $7,500 that all Volts qualify for.
As for other states, Chevrolet says Volts registered in Georgia, New York and Florida also are eligible for single-occupancy access to carpool lanes.
The 2012 Volt with the Low Emissions Package should begin arriving in California in the next two weeks. It will cost the same as the regular version: $39,145 plus an $850 destination fee.