Cars.com News Briefs: Feb. 28, 2012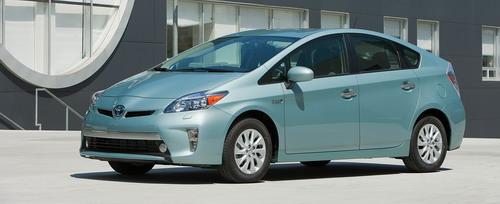 Here's what we have our eye on today:
California, the nation's largest auto market, has granted carpool-lane access and a $2,500 rebate to the 2012 Toyota Prius Plug-in, Automotive News reports. The state's Clean Vehicle Rebate Program offers the cash for qualifying plug-in or fuel-cell vehicles, and it comes atop an existing $1,500 rebate Toyota will offer Prius Plug-in buyers for a limited time. Prior to a national rollout in 2013, Toyota is selling the vehicle in California, Oregon, Washington, Arizona and 10 Northeastern states. The combined rebates knock the car's starting price down to $28,760, or $4,760 over the price of a regular 2012 Prius. The move comes on the heels of California offering carpool-lane access and a $1,500 rebate to the Chevrolet Volt.
Carmakers are shedding trim-level combinations to simplify the ordering process, but that could mean you'll have fewer choices at the dealership, The Detroit Free Press reports. Citing examples like the Buick Verano, which has just 18 trim combinations, and the Volkswagen Passat, which VW slashed from 148 to just 15, the Free Press says fewer combinations allow automakers to streamline the manufacturing process with less complexity and improved quality, but it can leave consumers stuck with packaged features they don't want. High-end carmakers, plus a few hoi polloi nameplates like the new Dodge Dart, still offer myriad combinations.
USA Today reports that if car shoppers buy 14 million new vehicles this year — at the top end of analysts' expectations — carmakers and automotive suppliers, which added 38,000 jobs last year, will be running at 90% capacity and could even face shortages.
Ford executive chairman Bill Ford Jr. says that by 2025, cars will communicate through "a rolling collection of sensors" that could allow for autopilot functions like changing lanes and taking highway exits, The Detroit News reports. Ford, who spoke at the 2012 Mobile World Congress in Barcelona, said he expects some 4 billion cars to populate the world by 2050, versus just 1 billion today.