GM Designer Talks the Future of GMC, Defends Touch-Sensitive Controls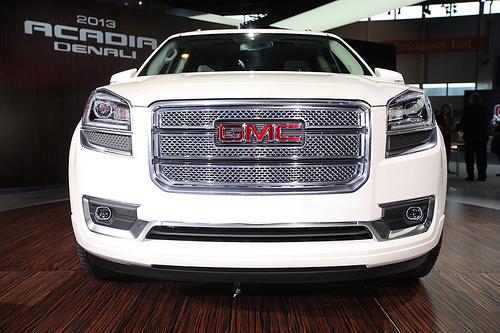 With the restyled
2013 Acadia SUV
that debuted at last week's Chicago Auto Show, GMC could begin to graduate from what it's been for too long: a brand of Chevrolet clones.
Parent company GM has said for decades it wants to move beyond badge engineering — slotting the same car with minimal changes into its various brands — and the Acadia shows promise.
The Acadia rides the same platform as the Chevrolet Traverse and Buick Enclave, and up through the 2012 model, overall quality has mirrored the Traverse. It begs the question: Why not buy the better-equipped Chevrolet for the same price? But that has changed.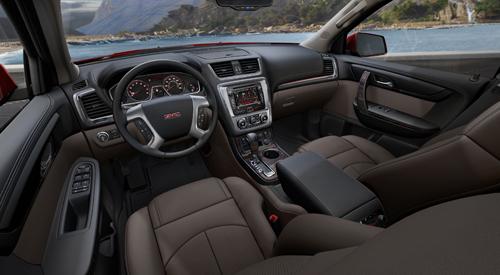 The 2013 Acadia's premium materials include stitched faux leather atop the doors and dashboard. Denali trim levels, which GM says account for 30% of Acadia sales, adorn the interior with real aluminum.
Dave Lyon, GM's global director of executive design, calls the Acadia "a great indication" for what's to come at GMC. Lyon, who hails from the Chicago suburbs, spoke with Cars.com last week at the Chicago Auto Show.
"We will move cabins more upscale, we will use more premium materials," he says of GMC. "There really is a very unique position out there for GMC, where it has a very serious, real, authentic truck credibility."
GM hasn't always been faithful to that. "We didn't have to keep GMC around," Lyon says, but "this is a very unique brand. When we differentiate it more, we're able to get more price."
Customers will "pay more for this exclusive, premium truck," he says. "Where we haven't differentiated much, we don't make much more of a margin than the Chevy does. And it turns out that's not good business."
Touch-Sensitive Controls
Among the Acadia's changes are touch-sensitive center controls that mimic parts of the touch-sensitive center panel in Cadillac's new XTS and ATS sedans. We've objected to our long-term Chevy Volt's touch-sensitive buttons, which are less responsive than physical knobs and buttons. The same goes for Ford's often-criticized MyFord Touch, for which Lyon gives "a lot of respect" to Ford. But he defends GM's touch-sensitive buttons, saying they're easier to use because of bigger fonts and simpler menus – something Ford, incidentally, is trying to address with its latest version of MyFord Touch.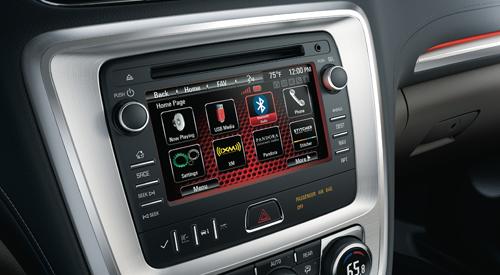 "We get into discussions with the electrical engineers," Lyon says. "The system is capable of conveying all kinds of information, conveying all kinds of choices and options. The problem is if you explore them all … you start blowing the 2 second rule, which is kind of the agreement we have with [The National Highway Traffic Safety Administration], which is kind of [that] any task that you're doing with the center stack shouldn't take more than 2 seconds."
As for Cadillac's fully touch-sensitive system? It's something the brand needed.
"Somebody that's buying a Cadillac wants cutting edge," Lyon says. "You can see that with BMW and iDrive, right? Most journalists hate it. Maybe they've learned to like it by now. Maybe they've gotten used to it. [But] If the vehicle didn't offer that, you'd be not on the cutting edge of technology."