Hyundai Nixes Pickup, But What About Kia?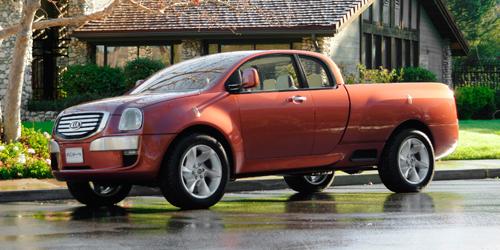 During a conversation with PickupTrucks.com, Hyundai CEO John Krafcik ruled out a pickup truck for the brand. "Our brand resonates best with families, but that's where we have the lowest market penetration. There's tremendous upside for us in crossovers. ... More seven-passenger crossover capacity is No. 1 on our priority list for the U.S," he said.
Instead of a pickup, Hyundai will focus on crossovers and its award-winning compact and midsize cars, like the expanding Elantra lineup. Coupe and hatchback body styles will join the sedan for model-year 2013.
However, PickupTrucks.com says don't count Kia out, as the brand demonstrates its willingness to explore other segments. The automaker just announced it is expanding its lineup with a large rear-wheel-drive sedan; there's also rumors of a large crossover in the works. (Let's hope Kia learned from mistakes made with the large truck-based Borrego SUV, a complete sales dud). Signs also point to interest in the pickup truck segment.
If auto show concepts are any indication of future product plans, a pickup truck might just be in Kia's future. Kia showed off a midsize pickup, the KCV-4 Mojave concept, at the 2004 Chicago Auto Show. At the 2009 Detroit Auto Show, the Kia Soul'ster was unveiled. The compact, sporty two-door truck was derived from Kia's 2010 Soul.
Kia hasn't confirmed plans for a truck, but back then, the automaker told Cars.com it was thinking about it. "About a year ago we were actually considering building a proper pickup," said chief designer Thomas Kearns. "We even started a concept for (the Detroit auto show). But with the economy we decided it wasn't a good time to do a standard truck."
Hyundai Says No, But Kia Could Say Yes (PickupTrucks.com)