Kia Track'ster Concept: Photo Gallery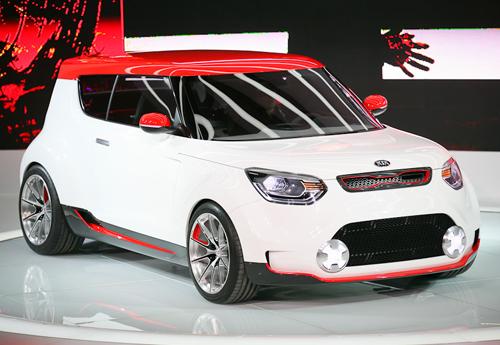 In terms of design, Kia put the pedal to the metal, literally, with its debut of its Track'ster concept. Building on the heavy-metal theme it used during its recent Super Bowl XLVI ad, the automaker hired a Motley Crue cover band to welcome the concept to the Kia stage at the 2012 Chicago Auto Show. They were loud; so was the concept's bright orange paint.
More 2012 Chicago Auto Show Coverage
The Track'ster concept takes the Soul's looks to new extremes with exaggerated, enlarged wheel arches, a lowered stance and carbon-fiber exterior trim. Though Kia says it'll never be produced, Kia can always dream.
Clicking on any image below will launch a larger photo gallery; you can browse through them by hitting the right and left arrow keys.
Cars.com photos by Peter Wynn Thompson