Land Rover Eyes Convertible for Evoque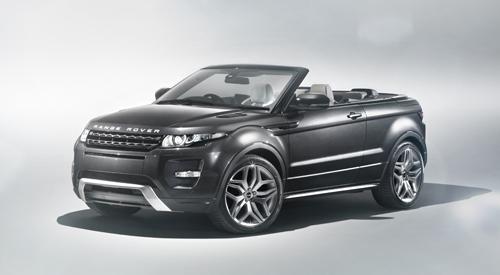 Although Land Rover's new, eye-catching compact SUV has been on the market for only a few months, it looks like a convertible version may soon join the lineup.
Can a droptop really add to the Range Rover Evoque's popularity? Maybe. At the very least, the automaker is keeping the buzz about its newest vehicle alive. The Evoque recently won the North American Truck of the Year award, and its sales are gaining momentum.
The Range Rover Evoque Convertible Concept will debut at the Geneva International Motor Show next month, and it seems like it has a chance to see production. According to Land Rover, it's a possibility.
"The concept is being shown to gauge reaction and to assess the potential for what could be another unique product from Land Rover," the automaker said in a statement.
The soft-top convertible concept is based on the Evoque coupe. It rides on 21-inch silver wheels with metallic gray paint and has seating for four. Land Rover says the convertible is just as off-road ready as its fixed-roof counterparts, thanks to its four-wheel-drive hardware, including the Terrain Response system.
Let's hope it's cooler and better executed than Nissan's Murano CrossCabriolet. Though it looked interesting, that droptop SUV's body-flex-filled ride, poor rear visibility, high road and wind noise levels and cramped backseat made it pretty disappointing.