Nissan Shows Off Pathfinder's New Interior
We first saw the
Nissan Pathfinder concept
at the Detroit auto show last month, but something was missing. Actually, it was the entire interior. Although the concept looked like a thinly disguised production Pathfinder, and we heard about its new interior features, it was empty. Today, Nissan released pictures and details of the large SUV's updated interior.
The automaker is making the Pathfinder more comfortable inside and out, returning it to a unibody platform -- instead of its previous body-on-frame design -- and adding more creature comforts to the cabin.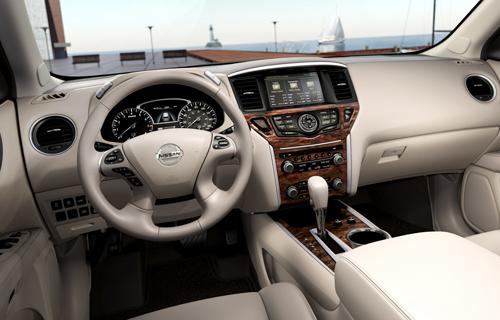 Interior features include heated and cooled front seats trimmed in leather, heated second-row seats, heated and power tilt/telescoping steering wheel, keyless entry and push-button start, three-zone climate controls, 13-speaker Bose stereo, an updated navigation system, three-zone entertainment system, Bluetooth connectivity, a power liftgate and the Around View Monitoring system. The latter, which is found in several Infiniti and Nissan vehicles, provides a 360-degree view of the outside of the vehicle.
The biggest news, however, is in the second and third rows. The 2013 Pathfinder will continue to seat seven passengers in three rows of seats. Families with children in car seats will appreciate the new "Child Seat Mode" functionality, which allows you to access the third row even if a child seat is installed in the second row. In most vehicles, there isn't enough room to access the third row if the car seat is already installed. Although this functionality sounds appealing, we haven't been able to get in the concept to try it out.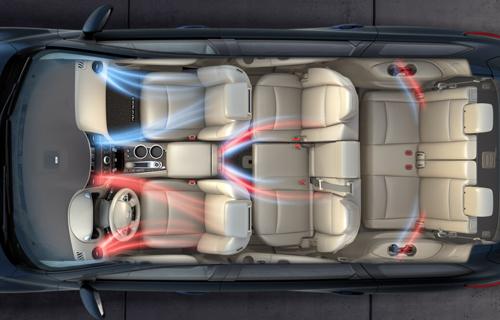 "One of the dilemmas facing families with both young children and infants/toddlers is getting the older kids in the third row without having to remove a child seat mounted in the second row. This innovative design solves that issue," Al Castignetti, Nissan vice president and general manager, said in a press release.
Both rows also slide and recline for passenger comfort and fold flat for cargo hauling. There's also underfloor storage in the cargo area.
The 2013 Pathfinder goes on sale this fall.