Porsche Announces Macan SUV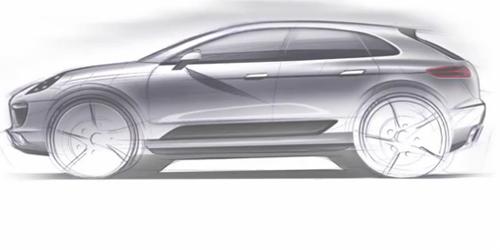 The Porsche Macan compact SUV will slot below the Cayenne in Porsche's linup, bringing the automaker's sport-ute count to two. Porsche previously announced plans to sell a compact SUV, but it was rumored to be called Cajun. The Macan name is a new one for Porsche, and it is derived from the Indonesian word for tiger.
Though we don't know much about the Macan, it's likely that it will share its platform with Audi's compact SUV, the Q5. Based on the sketch, the Macan looks like a compact four-door crossover with a sloping roofline, sleek lines and coupe-like silhouette. Its closest competitor will probably be Land Rover's newest SUV, the compact Range Rover Evoque. To wit, Porsche says the Macan will be off-road ready.
The Macan will be built at Porsche's plant in Leipzig, Germany, in late 2013. No word on when it will hit U.S. dealerships, but probably in early 2014.
Watch the video on Porsche's YouTube channel here: