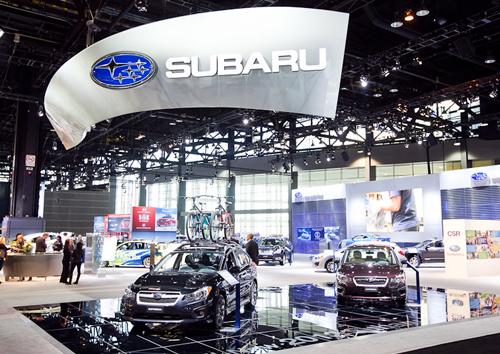 Is it April already? No, but in Consumer Reports' world, the heavy downpours of spring are apparently already under way. It also means there's another issue of the consumer union's coveted Annual Auto Issue.
The April issue includes Consumer Reports' top automotive picks, new-car ratings, best and worst used cars and used-car reliability info for cars from 2006 to 2012.
We want to highlight the group's latest automaker rankings, which includes a first-place finish for Subaru.
Subaru, which scored 75 out of 100, moved one spot higher this year — it's the first time the Japanese carmaker has held the top spot. Consumer Reports recommends all of Subaru's models — not to disparage that kudo, but Subaru has only six models.
As for the other 12 automakers, Japanese brands round out the top five spots: Mazda, Toyota, Honda and Nissan, in that order. Consumer Reports points out that the numbers separating the top five from the rest are beginning to shrink.
Mazda did particularly well, too, showing the best improvement, rising from seventh to second place. Honda, which was No. 1 last year, fell two spots to third place, mainly due to poor marks for the redesigned Honda Civic and Odyssey.
Chrysler and GM remain at the bottom of the heap, though Consumer Reports does take note of Chrysler's marked improvement. Chrysler jumped eight points, making it the most improved automaker. Chrysler's reliability has also improved to "Average," and its road test scores have improved on newer models, like the 2012 Chrysler 300C.
(Overall score out of 100)
1. Subaru (75)
2. Mazda (74)
3. Toyota (73)
4. Honda (72)
5. Nissan (67)
6. Volvo (64)
7. Hyundai (63)
8. BMW (63)
9. Volkswagen (62)
10. Ford (60)
11. Mercedes-Benz (58)
12. General Motors (56)
13. Chrysler (51)