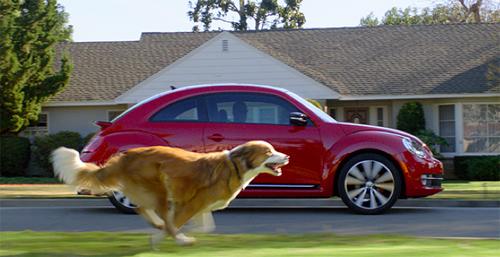 This year, automakers blitzed the commercial breaks of perhaps the most watched football game of all time like never before. Some automakers like Chevy had five different commercials, and Kia had three. How did they do? We rate the top 10 below along with the YouTube videos of each. Don't worry; we've also posted all the ads we didn't think rated well, so you can fully weigh in with your own ratings.
10. "Campfire Party," Audi A7
Vampires being burned by LED headlights is as silly a setup as actually having a vampire party around a campfire: They can see in the dark, don't like flames and don't get cold. But the comical expressions as they burst into ashes makes us giggle, and it's a bizarre, memorable way to highlight Audi's trademark LED lights.
9. "Think Fast," Hyundai Genesis Coupe
It's silly, unrealistic and kind of morbid, but watching someone resuscitate their boss with stop-and-go driving made us laugh. It was simple and effective. They could have spent more time talking about the car's performance, though.
8. "Transactions," Acura NSX
This ad tries to be clever by using the recognizable face of comedian Jerry Seinfeld — the final episode of "Seinfeld" aired 14 years ago! — a notorious car collector. It also includes a cameo of comedian and car collector Jay Leno. However, the few seconds that show Acura's upcoming supercar aren't enough to get viewers excited about the brand.
7. "Cheetah," Hyundai Veloster Turbo
Taking a tried-and-true setup and turning it on its head is a good use of a car commercial. The "trust us, it's fast" line does the same thing. It's the opposite of Cadillac's "Green Hell" commercial, which didn't make our list.
6. "The Dog Strikes Back," Volkswagen Beetle
Volkswagen had a huge hit last year with its Darth Vader tot who successfully used the Force on a Passat. This year's ad feels forced in a different way by using a commercial within a commercial technique. Unfortunately, the lovable dog is more memorable than the use of the famous Mos Eisley cantina from the original "Star Wars" movie.
5. "Beast," Lexus GS
It's simple. It shows the car. It makes a bold statement, and on a big-screen TV, it looked great. Plus, if you were busy eating nachos you still got the point of the commercial.
4. "Matthew's Day Off," Honda CR-V
This "sequel" to "Ferris Bueller's Day Off" is an excellent concept that's pretty well executed. The jokes in the ad — the Chinese parade and natural history museum — could have better and the 30-second version wasn't as good as the extended cut we see above. However, the CR-V's integration in the commercial is well done and will probably hit the targeted demographic or some such.
3. "Chevy Happy Grad," Chevy Camaro
This commercial is made by the completely insane reaction by the mistaken college grad and then cemented by its classic lines: "Status update: best day of my life," "I'm so marrying you right now" and "Hey! Mr. Johnson just stole my car." No frills needed for this one's success. Again, the extended version (above) is better than the 30-second spot that made the big game.
2. "A Dream Car For Real Life," Kia Optima
I like this one not because it's an actual dream I had at age 14, but because as over the top as it is there isn't anything overtly offensive despite the juvenile use of scantily clad women and Motley Crue. Plus, the main character comes off as lovable without uttering a word.
1. "Halftime in America," Chrysler
It's been pulled from YouTube due to a claim by the NFL — did they copyright the word halftime? — but Chrysler's two-minute commercial featuring a gravelly voiced Clint Eastwood rallying the country around the working man was the most powerful spot of the night. Based on the ad, Eastwood could win the presidential election this morning if he felt like it.
The Rest
"Performance Basketball," Bridgestone
"Performance Football," Bridgestone
"Green Hell," Cadillac ATS
"Apocalypse," Chevy Silverado
"Aliens," Chevy Volt
"Stunts," Chevy Sonic
"Seduction," Fiat 500 Abarth
"All For One," Hyundai
"It's Reinvented," Toyota Camry