Would You Buy It? Chevrolet Cruze Station Wagon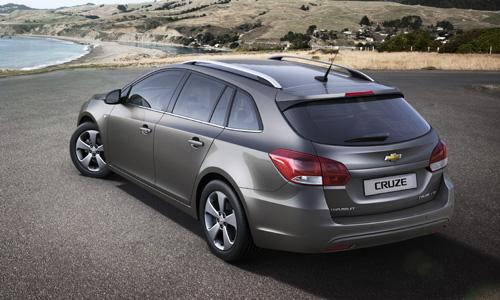 In advance of the Geneva International Auto Show next month, Chevrolet announced plans to sell a wagon version of its
Cruze
compact in Europe. This news was followed quickly by a statement that Chevy won't sell it in the United States. But why not?
In America's ongoing love affair with the automobile, hatchbacks and wagons have often taken the role of jilted paramour. For whatever reason, wagons are not part of the "in crowd" in the U.S., and Americans continually choose coupes and sedans over their trunk-less counterparts. Although many automakers have tried to shift the tide of public opinion, wagons don't usually last long in a vehicle's lineup, especially if that automaker isn't European.
For example, Hyundai recently announced that its Elantra Touring wagon won't live past model-year 2012; a hatchback replaces it for 2013. The Touring trim joined the Elantra family in 2009 and was a perennial slow seller. Through August 2011, Hyundai sold just 10,318 units of the wagon, compared with 123,218 Elantra sedans sold during the same time.
Would the Cruze wagon fare any better here? The car seems popular enough: Chevrolet says it has already sold more than 1 million Cruzes globally since the vehicle debuted in 2009. The U.S. version hit the market as a 2011 model, and 231,732 Cruzes were sold here last year.
To Chevrolet of Europe, offering a Cruze station wagon seems like a no-brainer. "In Europe, the most popular body styles in the compact segment are hatchbacks with around 60 percent, followed by station wagons with around 20 percent of the segment," Chevrolet Product Communication Manager Cornelia Harodt told us.
Set to hit the stage next month at the Geneva auto show, the Cruze wagon will join sedan and hatchback models in Europe. At 184.1 inches long, the station wagon is slightly longer than the sedan, which is 181 inches long. Cargo room ranges from 17.6 cubic feet with the seats up to 52.9 cubic feet with the rear seats folded. In comparison, the Cruze sedan offers 15.4 cubic feet of trunk space.
"The Cruze station wagon caters to an important market segment. It ticks all the right boxes for European drivers in terms of distinctive design, dynamic driving, space and economy," Chevrolet Europe President and Managing Director Susan Docherty said in a statement.
Aren't Americans interested in ticking the same boxes when it comes to what we need in a vehicle? Not really, says Chevrolet Communications Manager Annalisa Esposito Bluhm. She explained to Cars.com that there isn't enough market interest in the U.S. to sustain both a Chevy wagon and a compact crossover, like the Equinox. It's a non-issue in Europe because the Equinox isn't sold there.
A Cruze wagon would likely cannibalize sales of Chevy's popular compact SUV, and the Equinox is a strong seller. According to Automotive News, the bow-tie brand sold 193,274 Equinoxes in the U.S. last year, a 29% increase over the previous year. To Chevrolet, she explained, the Equinox makes more sense in the U.S. because crossovers are much more popular than wagons. The brand simply can't make room for two similar vehicles that meet practically the same consumer need.
Bluhm did say, though, that if gas prices spike, consumer need and market realities will shift in the U.S., prompting a re- evaluation of the Cruze wagon's stateside future.
To us, this means a U.S. Cruze wagon is a long shot. Tell us, would you buy it?