2012 Subaru Outback: Car Seat Check
With its sporty looks, the 2012 Subaru Outback challenges compact crossovers for the hearts and minds of families. That may be overstating things a little, but the Outback seats five, has a roomy backseat and cargo area, and has standard all-wheel drive. What's not to love?
For the Car Seat Check, we use a Graco SnugRide 30 rear-facing infant-safety seat, a Britax Roundabout convertible child-safety seat and Graco high-back TurboBooster seat.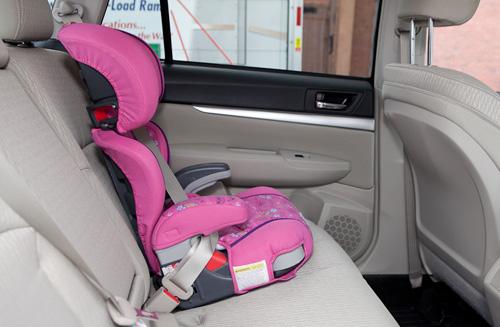 The front seats are adjusted to a comfortable position for a 6-foot driver and a 5-foot-8 passenger. The three child seats are installed in the second row. The booster seat sits behind the driver's seat, and the infant seat and convertible seats are installed behind the passenger seat. We also install the infant seat in the second row's middle seat with the booster and convertible in the outboard seats to see if three car seats will fit. If there's a third row, we install the booster seat and a forward-facing convertible.
Here's how the 2012 Outback did in Cars.com's Car Seat Check:
Latch system: The Outback's two sets of lower Latch anchors sit behind small flaps, which are Velcroed in place, in the seat upholstery. This setup usually makes it easy to use the anchors, but the Outback's anchors are set so far back that it was difficult to access them.
Three tether anchors are in the cargo area's ceiling. This location isn't ideal because when the anchors are in use, the tether straps interfere with the driver's rear visibility.
Booster seat: Our high-back booster seat fit well in the Outback. The outboard seat belt buckles are on stable bases, making them easy for young children to use independently. The middle seat's seat belt buckle is floppy, however.
Convertible seat: Both the forward- and rear-facing convertible fit well in the Outback, thanks to its flat bottom seat cushions. With the rear-facing convertible, there was enough room in the backseat that we didn't need to move the front passenger seat forward to accommodate it.
Infant-safety seat: This rear-facing car seat fit easily in the backseat. There was no need to move the front passenger seat forward.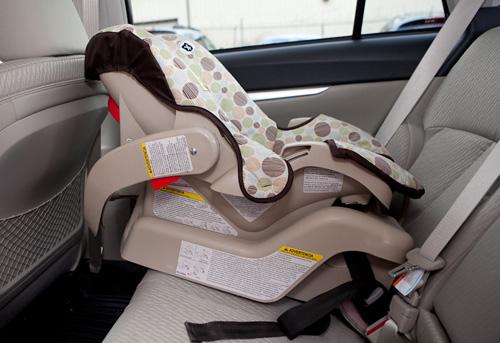 How many car seats fit in the second row? Two
Editor's note: For three car seats — infant-safety seat, convertible and booster seats — to fit in a car, our criterion is that a child sitting in the booster seat must be able to reach the seat belt buckle. Parents should also remember that they can use the Latch system or a seat belt to install a car seat.