2013 Mitsubishi Outlander at the 2012 Geneva International Motor Show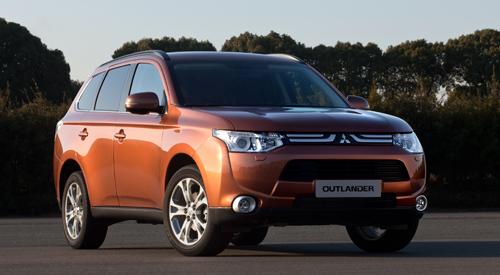 Competes with: Ford Edge, Kia Sorento
Looks like: Outlander gets a more fluid and sculpted look
Drivetrain: No word on U.S. powertrains, but Europe will get diesel and gas versions: a 2.0-liter four-cylinder gasoline engine and a 2.2-liter four-cylinder turbo-diesel
Hits dealerships: On sale in Russia this summer; other markets will follow
Mitsubishi's Outlander is going green. The Outlander is redesigned for 2013 with more sculpted styling, new safety features and plans for a plug-in model.
The third generation of the midsize crossover loses less than an inch in length and gets a whole new look, including a restyled grille with Mitsubishi's three-diamond logo prominently displayed, a raised belt line, a more contoured body and wraparound headlamps. We first saw the new design in concept guise from the Mitsubishi Concept PX-MiEV II at the 2011 Tokyo Motor Show.
Europe will get diesel and gas versions: a 2.0-liter four-cylinder gasoline engine and a 2.2-liter four-cylinder turbo-diesel with stop-start functionality. No word yet on U.S. powertrains, but we expect the diesel won't be offered here.
The Outlander will continue to seat five or seven passengers, but the second row seat gets an update, including a new 50/50-split formation. Several new comfort and convenience features will be offered on the 2013 model, including dual-zone air conditioning and a tilt/telescopic steering wheel (the one on the current generation just tilts). Mitsubishi says the new Outlander uses a higher grade of interior materials for a more soft-touch and comfortable cabin. Also for 2013, the tailgate is now one piece with a newly optional power function.
In terms of safety, Mitsubishi added a slew of new systems to the Outlander, such as lane departure warning, adaptive cruise control and forward collision mitigation. The latter sounds a lot like Volvo's City Safety in that it detects obstacles in front of the car and automatically applies the brakes if needed to avoid a crash.
The new Outlander will go on sale first in Russia this summer, followed by Japan, China, North America and Europe. The plug-in model will debut after the regular vehicle's launch. It will borrow technology from the Mitsubishi i subcompact electric car.