Cars.com Buzz Index: March 2012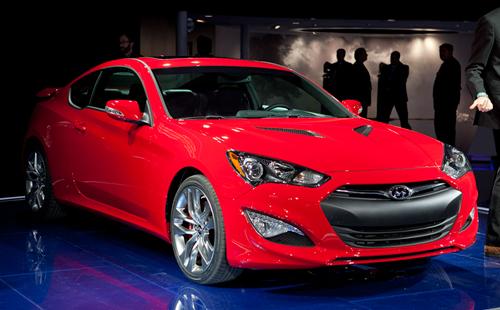 Welcome to the Buzz Index, where we rank the hottest cars that consumers search on Cars.com. These cars have seen the biggest increase in searches and dealer contacts since last month.
Top cars in March were an eclectic bunch. Summerlike temperatures across much of the country had consumers thinking sports cars, but rising gas prices — the national average price for regular gas eclipsed $3.90 a gallon last week — brought several high-mpg redesigns alongside. Consider some numbers: Three cars in the top five have 300 horsepower or more — one has nearly double that — and five of the top 10 have an EPA city or highway rating of at least 40 mpg.
Unsurprisingly, eight of the 10 also have been redesigned or received significant updates in the past year.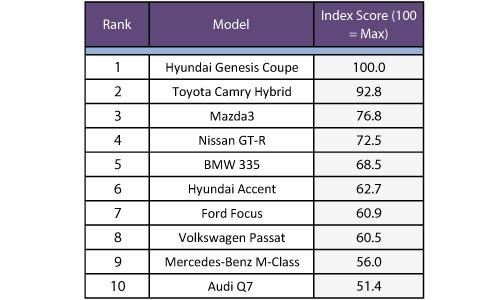 Interest flew high for the Hyundai Genesis coupe as the restyled 2013 model, which boasts more power and an eight-speed automatic transmission, trickles into dealerships. High-mileage proved nearly as popular as high horsepower, however, as shoppers responded to the redesigned Toyota Camry Hybrid, which gets up to an EPA-estimated 43 mpg city. The Mazda3, Ford Focus and Hyundai Accent rode the same wave: All have variants that get an EPA-estimated 40 mpg highway.
The Volkswagen Passat's impressive redesign, which Cars.com named its Best of 2012, is drawing interest, and the EPA rates its diesel four-cylinder at up to 43 mpg highway. Diesel engines' outstanding gas mileage is spurring interest: J.D. Power and Associates expects diesels to more than double in popularity by 2017.
Eight of the models have already seen sales success, up at least 27% in February over the previous year. All eight should see month-over-month increases in March's sales, but year-over-year increases could be slimmer, given five nameplates — the Mazda3, Nissan GT-R, BMW 3 Series, Focus and Mercedes-Benz M-Class — had strong sales in March 2011.
One anomaly is the aging Audi Q7, which dropped 50% in February sales but shows strong interest this month. Alongside the Mercedes M-Class and BMW 3 Series, it could portend higher interest in luxury cars. Indeed, Oregon-based CNW Marketing Research surveys consumer spending and its monthly data indicate luxury purchases — like navigation systems and other high-end automotive options — turned a sharp corner in the first months of 2012, following 20-year lows during the recession from 2008 to 2011.
Top 10 Overall
The top cars by shopper interest don't change as much from month to month. Apart from a few perennial high-interest cars – like Detroit's muscle cars – they generally follow the market's top sellers.
Here's March's top 10: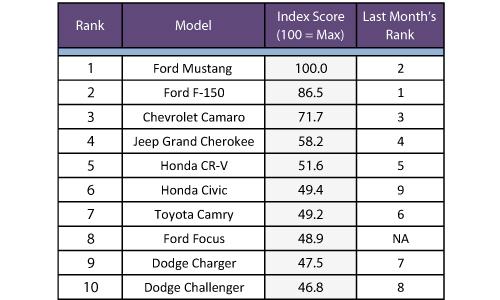 About the Buzz Index
Cars.com's Buzz Index analyzes data from thousands of Cars.com shoppers, looking at which cars have the highest increase in search and dealer-contact activity, with a floor to eliminate bit players. Index values analyze which cars garner the highest month-over-month increase in shopper activity — the movers and shakers — not which cars have the highest total activity, which stays comparatively similar. For each car, the index regards the most recent model-year. The Buzz Index began in early 2012.