Fisker Replaces Karma Batteries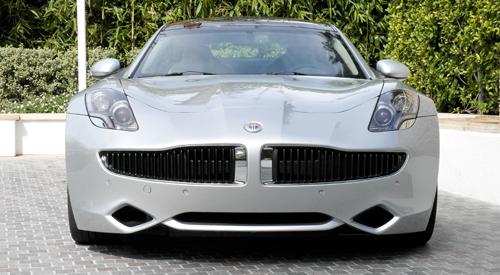 The problems keep piling up for Fisker and its plug-in electric car. Today, the beleaguered automaker announced its battery supplier is replacing the batteries in all of its
2012 Karma
sedans due to a manufacturing defect discovered by supplier A123 Systems. Fisker CEO Tom LaSorda said the company has sold more than 630 vehicles in North America and Europe.
According to the supplier, the defect could result in battery underperformance and decreased durability. "We have isolated the root cause of the defective cells, and we are confident that we have pinpointed the source of the defect and corrected it. As a result of engineering analysis and testing, we believe this is not a safety issue, and we have determined the root cause and have taken corrective actions," A123 Systems CEO David Vieau said in a statement.
Fisker calls the replacement program an "enhanced customer care package;" it includes the battery replacement as well as a warranty extension from 50 months/50,000 miles to 60 months/60,000 miles.
The battery replacement initiative comes in response to power issues Consumer Reports faced while testing a Karma it had purchased. It's just one of several hurdles the automaker has dealt with this year, including losing Department of Energy loans, a CEO shakeup and employee layoffs.
A123 has started building replacement battery units and will begin shipping them this week.