Honda Civic, Hyundai Elantra Earn NHTSA Five-Star Safety Rating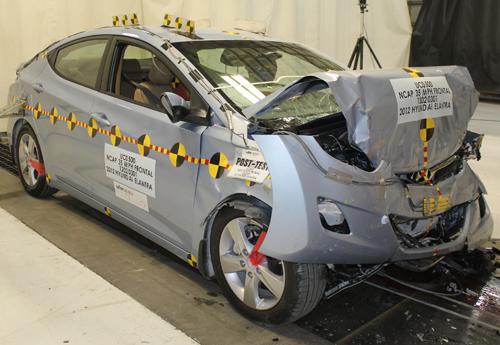 The National Highway Traffic Safety Administration released another batch of 2012 model-year crash-test ratings today. Under the stricter guidelines, the new 2012 Honda Civic and 2012 Hyundai Elantra each earned five-star composite safety scores.
NHTSA's composite scores are composed of five-star ratings for frontal, rollover and side pole and barrier tests. The side pole test, which is new, simulates a 20-mph side-impact crash into a 10-inch-diameter pole or tree at a 75-degree angle just behind the driver's side A-pillar.
The Civic and Elantra each received ratings of four stars for the rollover test and five stars for both the frontal crash test and the combined side pole and barrier tests.
The 2012 Ford F-250 Super Crew also was tested, receiving an overall four-star rating.
The Civic and Elantra join the Chevy Sonic, Volkswagen Passat, Cadillac CTS, Cadillac SRX, Saab 9-4X, Chrysler 300, Chevrolet Camaro, Dodge Charger, Kia Sportage (all-wheel drive), Toyota Camry and Volvo S60 as the only vehicles to earn five-star composite scores for 2012.
NHTSA said it will test 74 vehicles for the 2012 model year, including 42 passenger cars, 22 SUVs/crossovers, eight pickup trucks and two minivans, representing 81% of the 2012 models by sales volume. At this point, NHTSA has released information on more than 60 models.