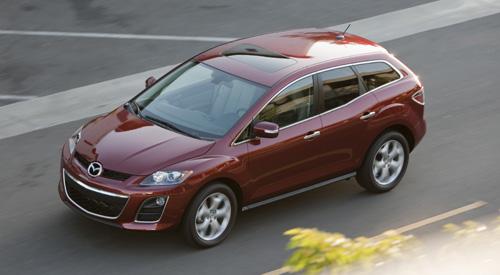 Mazda is doing a little housekeeping this spring. It's out with the old and in with the new in terms of the automaker's SUV lineup. Mazda spokeswoman Beverly Braga recently told Cars.com that Mazda will replace its
CX-7
midsize SUV with the smaller,
new-for-2013 CX-5
. Model-year 2012 will be the CX-7's last in the U.S.; sales will continue in other markets, however.
The CX-7 was launched for model-year 2007 and has seen only modest sales, including 35,641 units last year. Major competitors easily outsell it: Honda sold 218,373 CR-Vs in 2011--before the redesigned version went on sale. One of the CX-7's issues was size; at 184.3 inches long, it was too small to be considered a true midsize SUV and too big to compete in the compact class.
Mazda is hoping CX-5 will better meet consumers' needs. It's smaller than the CX-7, but offers more passenger room. It has 103.8 cubic feet of interior volume, while the CX-7 has 101.7. A competitive base price and an attractive fuel-efficient engine also should help. Power comes from a 155-horsepower four-cylinder with an EPA-estimated 26/32/29 mpg city/highway/combined rating. The 2013 CX-5 is on sale now with a starting price of $20,695, excluding a $795 destination fee.