Mercedes-Benz A-Class at the 2012 Geneva International Motor Show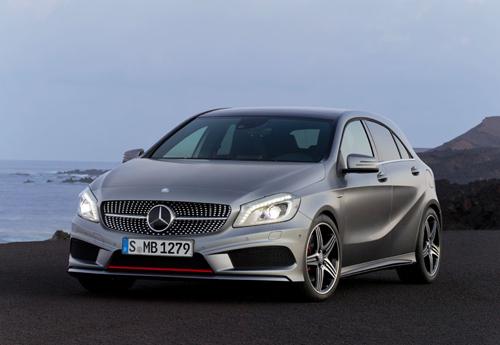 Competes with: BMW 1 Series, Audi A3, Lexus CT 200h
Looks like: It's a little more sporty-minded than traditional Mercedes models
Drivetrain: 115-hp, turbocharged 1.6-liter four-cylinder; 156- and 211-hp, turbocharged 2.0-liter four-cylinder; seven-speed double-clutch automatic transmission; front- and all-wheel drive
Hits dealerships: September for Europe, North America TBD
You're probably asking yourself, "Mercedes has a compact hatchback model?" Indeed, the A-Class has been the brand's entry-level offering in most parts of the world, particularly in Europe, since at least the late 1990s. But the current model's tall, utilitarian looks have kept the vehicle from being offered in the U.S., where Mercedes is considered a luxury carmaker, first and only.
The fact that the A-Class Concept was unveiled at last year's New York International Auto Show — and that Mercedes spokesman Dan Barile had told us the odds of the A-Class coming here were "very good" — makes us to believe that this Mercedes hatchback (there's something about "hatchback" that sounds a bit anachronistic for this luxury brand) is probably coming here soon.
Don't let the Volkswagen Golf-like back end fool you; this is a tried-and-true Mercedes-Benz, full of smartphone connectivity, automated safety-avoidance features and luxurious trim offerings.
The production model still resembles the fairly radical-looking concept model from last year's New York auto show. There's extensive sculpting and chamfered edges. Overall, the model looks edgy and technical. It's thoroughly futuristic-looking, if not necessarily luxurious-looking.
Every A-Class model comes standard with a radar-based collision warning system and adaptive brakes, which warn the driver of an impending collision and ready the brakes if needed. Also available is Mercedes' Pre-Safe system, which does things like pre-lock and/or retract the seat-belt pretensioner before an impeding accident.
On the inside, that precarious-looking iPad-like screen from the concept is still here, now complemented by the traditional set of too many switchgear and button matrixes that German automakers love cramming into their consoles. Mercedes says there will be no wood trim offered on the A-Class, only a silver chrome veneer. Overall, with the radial vents and the sport bucket seats, the A-Class looks downright cool — something you typically can't say about most models offered by this competent but staid German brand.
There are plenty of engine offerings, but if the model comes to the U.S., we doubt we'll see any of them but the most powerful gasoline motor — a 211-horsepower, turbocharged 2.0-liter four-cylinder. All engines are mated to a seven-speed dual-clutch automatic transmission and have an automatic start/stop system. The A-Class is front-wheel drive with an all-wheel-drive option. Currently, there are no front-wheel-drive Mercedes models offered here, but times, they are a changin'.
Continue below to see more photos.