Movers & Losers: February 2012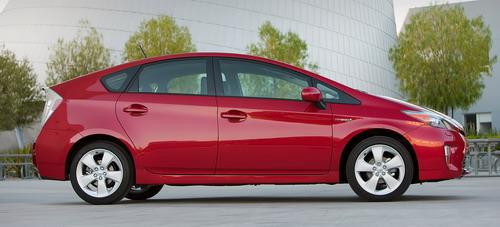 Rising gas prices
brought shoppers back toward fuel-efficient small cars and hybrids, with the hot-selling Toyota Prius — up a staggering 52% in February sales — taking just nine days to turn. The Prius is EPA-rated at up to 51 mpg, but four other cars with 40 mpg or better EPA ratings made this month's Movers list. Just two cars, the redesigned BMW 3 Series and Lexus GS, topped the Prius. The Volvo XC90 was the only anomaly. Despite light incentives, shoppers are snapping up the 10-year-old SUV.
Of January's top 10 movers, seven stayed in the mix. The Audi Q7 and Porsche Cayenne slipped below our minimum transaction threshold, while the Land Rover Range Rover fell to 27 days. That's still better than February's average, which was 39 days to turn — a slowdown from January's 34 days but far less than February 2011's 47 days.
As we
reported earlier
, Super Bowl ads may have boosted sales for certain automakers. How did they influence the speed at which cars moved off lots? It's hard to tell. Lexus'
poorly rated
GS commercial didn't slow buyers from snatching up the redesigned sport sedan, but midpack spots for the Chevrolet Sonic hatch and Camaro convertible left those cars, well, in the middle. Well-rated commercials for the Hyundai Veloster and Honda CR-V may have boosted interest — both cars were February Movers — but Fiat's 500 Abarth commercial, rated among the top 10 in USA Today's Ad Meter, did little to hasten the 500's pace. Hatchback versions averaged 91 days to move off dealership lots in February, while the 500C convertible took 99 days.
The 500C was one of four convertibles on the Losers list — unsurprising, given spring is still more than a week off. Other notable duds include hybrid versions of the Volkswagen Touareg and Infiniti M. Blame low supplies: Cars.com has just 218 M35h and 83 Touareg Hybrid models in national new-car inventory. Too few of them exist, and the ones in stock evidently command little interest.
Movers
2012 BMW 328i sedan: 7 days
2013 Lexus GS 350: 8 days
2012 Toyota Prius: 9 days
2012 Honda CR-V: 10 days
2012 Hyundai Elantra sedan: 10 days
2012 Hyundai Veloster: 10 days
2012 Subaru Impreza hatchback: 10 days
2013 Volvo XC90: 10 days
2012 Honda Pilot: 11 days
2012 Audi Q5: 12 days
2012 BMW X3: 12 days
2012 Hyundai Sonata Hybrid: 12 days
2012 Toyota 4Runner: 12 days
2012 Toyota Camry Hybrid: 12 days
2012 Land Rover Range Rover Evoque: 13 days
2012 Subaru Impreza sedan: 13 days
2012 BMW 535i xDrive sedan: 14 days
2012 Kia Soul: 14 days
2012 Toyota RAV4: 14 days
Losers
2012 BMW X6 M: 114 days
2012 BMW 650i convertible: 111 days
2012 Volkswagen Touareg Hybrid: 104 days
2012 Porsche 911 convertible*: 104 days
2012 Fiat 500C convertible: 99 days
2012 Infiniti M35h hybrid: 98 days
2012 BMW 135i convertible: 96 days
2012 Infiniti EX35: 93 days
2012 Fiat 500 hatchback: 91 days
2012 Nissan NV cargo van: 89 days
Cars.com Picks
2012 Volvo S60: 51 days
2012 Ford Mustang coupe: 53 days
2012 Cadillac CTS sedan: 60 days
2012 Dodge Durango: 60 days
2012 Mazda CX-9: 64 days
2012 Nissan Altima sedan: 72 days
2012 Mazda3 sedan: 76 days
*We should note the Porsche 911 includes the outgoing car (the 997, to Porsche enthusiasts) and redesigned (991) versions among its 2012 models. It's hard to quantify just how many 997s are slowing the car's sales pace, but either way, the 911 ranks at the bottom.
About the Lists
The Movers and Losers list reports the average number of days it takes to sell models from the day they arrive on the lot until the final paperwork is signed by a buyer. This is not a days-of-inventory list like you may find on other websites. We're now focusing on only 2012 and, where available, 2013 model years.
For Movers, we only list vehicles that pass a certain threshold of sales in order to weed out limited editions, ultra-high-performance cars and others that might skew the numbers or otherwise inaccurately portray popularity. For Losers, we have removed any threshold to reflect 2011 models that may have the greatest incentives.