Nissan Invitation Concept at the 2012 Geneva International Motor Show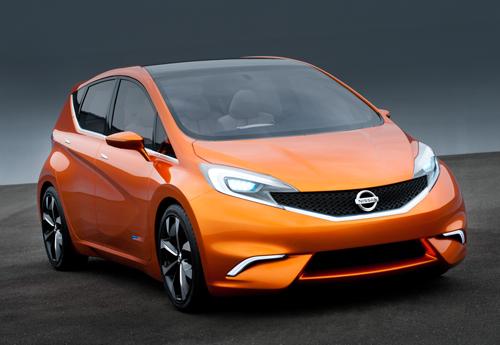 Looks like: The child of a Honda Fit and Nissan Leaf
Defining characteristics: Prominent trapezoidal grille with headlight cutouts
Ridiculous features: Around View Monitor seems sort of unnecessary
Chances of being mass-produced: Launching in Europe in 2013
Are you over Nissan's subcompact Cube? The Nissan Invitation Concept may be what's next in this class from the automaker, but don't get your hopes up just yet.
What you're seeing here is an ordinary-looking subcompact hatchback, though it's just a concept for the moment. The vehicle is coming to the European market next year, where it will complement Nissan's Micra subcompact and Juke compact. Besides the Cube, the Japanese carmaker technically doesn't have a small hatchback offering in the U.S. since the Nissan Versa is considered a compact. That means there's a possibility that the model may be coming here, too, but Nissan made no mention of a U.S. release.
The Invitation's ordinary looks makes us think that Nissan plans to implement some of its design cues on forthcoming vehicles. Note the large, trapezoidal front grille that cuts into the bulging headlights, which sort of reminds us of the Nissan Leaf. Large front quarter windows and a prominent character cutout along the doors are also defining characteristics. Along with the
Hi-Cross Concept
, this is the second Nissan we've seen with unevenly shaped taillights. We expect to see them on future production versions of the carmaker's smaller models.
In the cabin, there's a large, curvy center console with two big radial air vents and a large radial knob that controls climate functions. The configuration sort of forms a face. Nissan says the concept is the first subcompact to feature an Around View Monitor, which on other Nissan vehicles includes four cameras mounted on each end of the vehicle and on its side mirrors.
Nissan also mentions that the vehicle should be agile and fun to drive … we'll have to take the automaker's word on it for now. Continue below for more photos.