Volkswagen Launches Electric Golf Test Fleet in April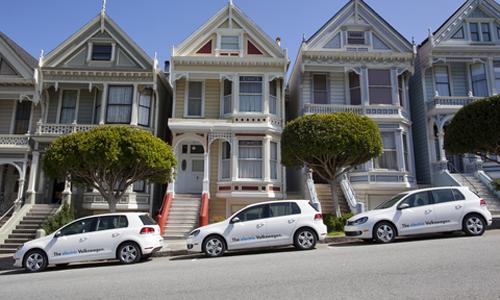 Prototypes of Volkswagen's E-Golf will soon be zipping around a few U.S. cities. The German automaker is launching a small pilot program in April to test the electric version of its
Golf
hatchback. The metro areas of Detroit, San Francisco and Washington, D.C., will be home to 20 prototypes, 12 of which will be allocated to Volkswagen employees.
The E-Golf's 26.5-kilowatt lithium-ion battery can make 199 pounds-feet of torque, Volkswagen says. It also offers three driving modes and three regenerative braking settings to optimize efficiency while accelerating and braking.
During the nine-month pilot program, VW will monitor how well the car performs in various climate conditions and how it responds to different driving habits. "This E-Golf test fleet will provide critical feedback on these vehicles that will prove essential in our sustainability efforts and in the drive toward electric mobility," Jonathan Browning, president and CEO of Volkswagen America, said in a statement.
VW employee participants will have 220-volt charging stations installed at home and an iPhone with an app that can check the charge status, regulate the car's internal temperature and remotely set up a charge. The Chevy Volt and Nissan Leaf use similar apps for these functions.
Although VW hasn't confirmed production of the vehicle, it said in a statement that the "data and insights gained during the scheme will be used in the final development of future EV technology applications."