Volvo Won't Bring the V40 Stateside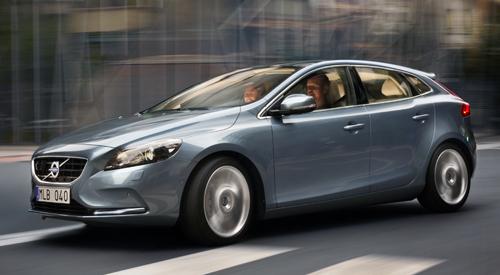 It's a gloomy day for Volvo enthusiasts jazzed at the prospect of the V40 making its way to U.S. shores. Volvo recently released official photos of the compact hatchback, but it also confirmed the V40 will only be sold in Europe.
The car is set to debut next week at the Geneva Motor Show. Volvo previously released a shadowy image of the V40 and hinted that it also might go on sale in the U.S. market. Since the S40 sedan and V50 wagon were discontinued for the 2012 model year in the U.S., a V40 made sense. We also thought it might make a compelling replacement for the C30, the automaker's slow-selling two-door hatchback. Alas, no.
Volvo expects to sell 90,000 units per year of the V40, and 85% of them will be in Europe. It also confirmed that none will be offered to U.S. customers.
"U.S. sales data and our continued market analysis confirm that demand for a five-door hatchback like the V40 would not be strong enough to warrant bringing it to the United States. On the other hand, the V40 is highly compatible with the interests and tastes of European automotive consumers, so it's expected to be very successful in European markets," Jawanza Keita, Volvo Cars of North America's technology and product communications manager, told Cars.com.
Diesel and gas powertrains will be available, both with automatic stop/start functionality. The V40 will also feature a comprehensive suite of safety equipment, including new technology. Volvo's Pedestrian Detection with Full Auto Brake, what Volvo calls a world-first pedestrian airbag, a lane keep assist system with haptic auto steering, a park assist system for automatic parallel parking and an updated version of the City Safety System that allows it to operate at higher speeds.