2012 Buick Regal Earns Five-Star NHTSA Safety Rating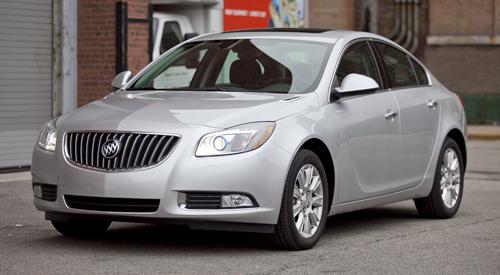 Buick's midsize sedan is the latest vehicle to be awarded the top rating from the National Highway Traffic Safety Administration. The
2012 Buick Regal
earned an overall five out of five stars in NHTSA's crash tests.
The Regal's composite score was composed of mostly five stars across the different areas of crash testing, but it did earn four stars in the frontal crash test and in the rollover test. The sedan earned fives in overall driver safety, side barrier and side pole crashes. Both the Regal and the mild hybrid Regal eAssist versions received a combined five-star rating.
NHTSA recently adopted more stringent guidelines and rigorous testing practices, so it's harder for vehicles to get five stars. The list is getting longer, though. The Regal is the 14th vehicle to be awarded NHTSA's highest combined star rating for the 2012 model year. The other five-star vehicles are the Cadillac CTS, Cadillac SRX, Chevrolet Camaro, Chevrolet Sonic, Chrysler 300, Dodge Charger, Honda Civic, Hyundai Elantra, Kia Sportage, Saab 9-4X, Toyota Camry, Volkswagen Passat and Volvo S60.