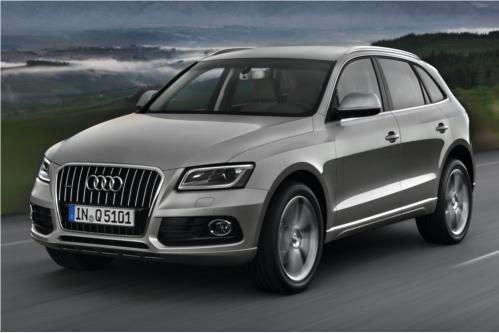 For the 2013 model year, the Audi Q5 gets a midcycle refresh to address the compact crossover's so-so fuel economy and to tie its styling to Audi's latest design language.
Starting with exterior updates, the headlight, grille and bumper designs get revised. The headlights feature a squared-off LED daytime running light option, and the grille has prominent vertical slats in place of the old model's eggcrate look. The lower air inlets and fog lights have also been updated. The taillights' LED pattern has been altered in a similar fashion as the headlights.
The 2013 Q5 gets more fuel-efficient engine options, including a parallel hybrid powertrain that's expected to achieve a 34 mpg average fuel economy rating, Audi says. The 2013 Audi Q5 Hybrid is set to go on sale later this summer. Gas-powered models benefit from a new auto-start-stop system and an electric, speed-sensitive power-steering system in lieu of the old Servotronic electro-hydraulic setup; both will improve fuel economy on four-cylinder and V-6 models.
The 225-horsepower, turbocharged four-cylinder is still mated to an eight-speed automatic transmission. The 270-hp, 3.2-liter V-6 has been replaced by a new 272-hp, supercharged 3.0-liter V-6 option. For the first time, the V-6 is mated to an eight-speed automatic, over the previous six-speed. The new V-6 now can go from zero to 62 mph in just 5.9 seconds; the old engine did it in 6.7 seconds. Audi expects gas mileage to increase on the V-6 model, too. There's no word yet on if the U.S. will get either of the Q5's European diesel options, but now that the hybrid is available here, we doubt it.
The interior gets a subtle update, with more chrome outlining the controls. The steering-column control stalk, ignition key and instrument gauge cluster have been modified, and there's a new steering wheel, according to the carmaker. The MMI multimedia system now uses four buttons (last year's model had three) for quicker control changes, particularly for the stereo.
The Audi Q5 should hit U.S. dealerships this fall.