2013 Buick Enclave at 2012 New York Auto Show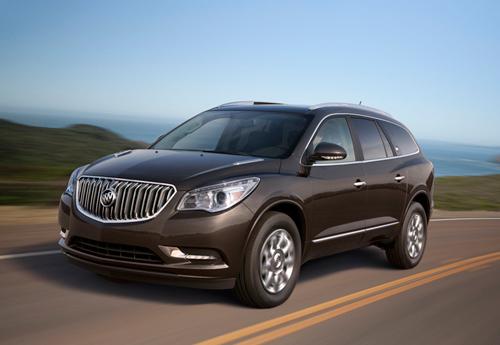 Competes with: Acura MDX, Infiniti JX, Lincoln MKT
Looks like: Small changes should maintain sales
Drivetrain: 288-hp, 3.6-liter V-6 engine; six-speed automatic transmission; front or all-wheel drive
Hits dealerships: This fall
We've seen GM's updated versions of the GMC Acadia and the Chevy Traverse, and now the company's luxury three-row crossover gets similar enhancements. Most noticeable is a reworked hood running into an industrial-styled grille and, as is par for the course these days, LED running lights.
More Coverage of the 2012 New York Auto Show
The back gets similar LED lights and a few other slight tweaks you can see in the photos below, and there are some new wheel choices, but the Enclave will probably be the hardest to tell apart from its predecessor of the three.
The interior gets similar updates as the other two but with a higher grade of leather finishes and more wood. Stylistically, the biggest change comes to the dashboard with a ring that runs from the tops of the front doors across the bottom of the windshield. It's a similar design to newer Buick sedans as well as Jaguar on its XJ flagship sedan.
GM's new multimedia system, IntelliLink, is standard with an LCD touch-screen, Bluetooth, USB input, voice recognition, Sirius XM satellite radio and HD radio standard. A navigation system and a 10-speaker Bose stereo are options.
On the safety front, a new center airbag for front-seat passengers is standard, along with a backup camera.
Under the hood, things remain the same with the 288-horsepower V-6 engine from the 2012 model powering things, but the six-speed automatic transmission has been revised for a "smoother" driving experience, the company says. Mileage remains the same at 17/24 mpg city/highway for front-wheel drive and 16/22 mpg for all-wheel drive.
We'll have a firsthand look at the Enclave from New York later today. The media preview officially kicks off Wednesday.