2013 Mercedes-Benz GLK-Class: Up Close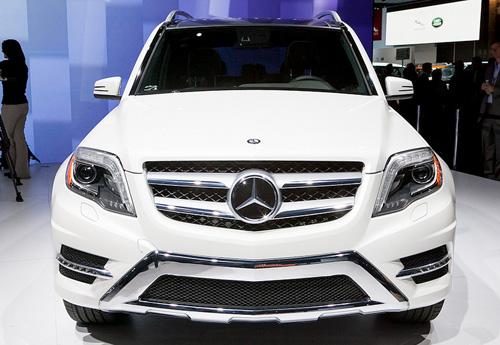 The refreshed GLK-Class, which hits dealerships this summer, has close to 1,000 new parts, Mercedes-Benz says. The show car's chrome trim is a little overboard – it girds the front bumper intake, almost like a faux grille guard. LED headlights join the lower string along the bumper. The GLK's rear always struck me as a bit slab-sided, and the 2013 model does little to change that.
More 2012 New York Auto Show Coverage
I love the circular air vents, which, like in the SLK, open and close with a hefty thunk. The redesigned dashboard features a broad expanse of wood trim, while the GLK's automatic gearshift adopts Mercedes' electronic column shifter. I prefer last year's mechanical console shifter, which had a more satisfying feel. The steering wheel, on the other hand, has classier accents and overlapping layers – much better than last year's molded three-spoke design.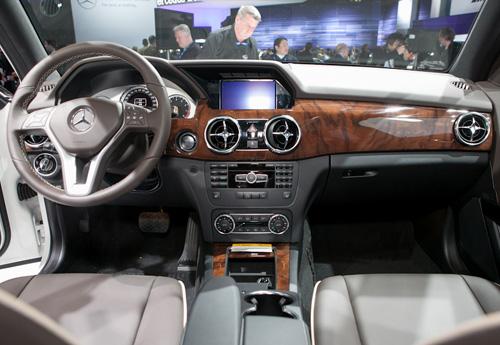 The space opened up by the gearshift is now a paltry storage bin. Outfitted with an ashtray and cigarette lighter, the show car barely had enough room for my iPhone. The glove compartment and center console make up for it, though; they're a decent size.
The front seats have exceptional travel range. Backseat legroom remains modest, and the seat sits low to the ground, with sunken door armrests to boot. The seat also lacks adjustments. Folding the seats is a cinch, and you can reach the seatback releases easily from the cargo area, which has a low load-in height.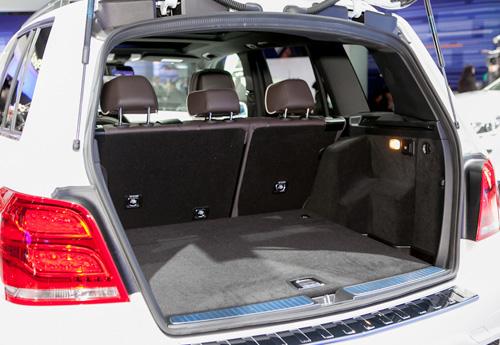 The GLK is still a small SUV, measuring a few inches shorter than competitors from Audi, BMW and Cadillac. The popular Lexus RX is nearly 10 inches longer. That translates into cargo volume, which remains light in the GLK – just 23.3 cubic feet behind the second row, trailing the aforementioned competitors. Fold the seats down, and the GLK has just 54.7 cubic feet of space. The Lexus RX, by contrast, has more than 80 cubic feet.