Are Sedans the Forgotten Family Car?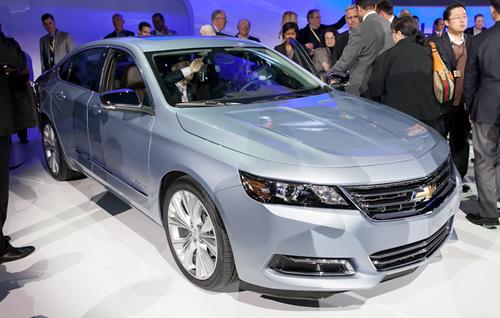 With no minivans in sight and spending a day checking out crossover after crossover at the 2012 New York International Auto Show, I had to ask myself whether there were other family-friendly vehicles I'd overlooked. I naturally pictured minivans, crossovers and SUVs.
More 2012 New York Auto Show Coverage
But wait, what about the good old family sedan? There are plenty of updated four-doors to choose from here at the auto show, and sedans, from subcompacts to midsizers, have been getting roomier.
So, why don't I think of sedans as family cars? Why have they dropped off my radar?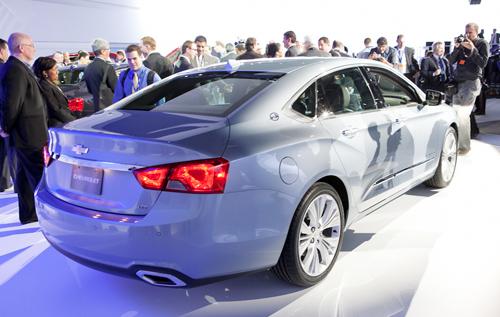 I began formulating an answer while covering the auto show, seeking out the sedans amongst the sea of utility vehicles.
It made sense to start with Chevrolet's new 2014 Impala. Before the unveiling, the assembled reporters were reminded of the Impala's history with'65 and '66 editions on either side of the stage and a video of the Impala's many iterations. Out comes the 2014, and while John Cafaro, director of exterior design, said he didn't want to rely on nostalgia to "create a contemporary classic," the styling didn't mesh with my expectations after all that reminiscing.
That doesn't mean it's not an option for families with two kids, a segment that would likely shy away from today's outdated Impala. There's good legroom in the backseat even with front seats adjusted for taller people, but I will be interested to see how rear-facing child-safety seats fit in it. Side note: The outgoing 2012 Impala is the last holdout for a front-row bench, but that is no longer an option on the 2014 Impala.
The Impala might be — perhaps was — an American icon, but Toyota also tried to focus on the American-ness of its redesigned sedan, the 2013 Toyota Avalon. It's not only built in America, but for the first time it was designed in America, too. Toyota says it wanted the exterior design to be compelling, but like the Impala, it's not going to knock off Dad's socks.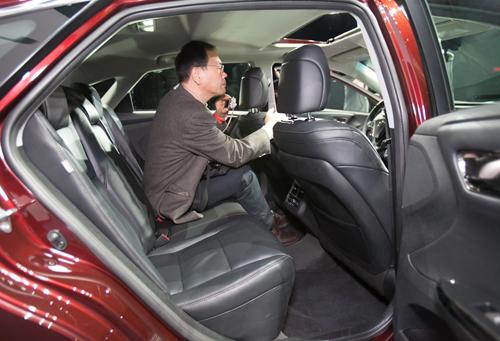 Toyota was excited to announce that the 2013 Avalon will have enhanced comfort — though that's the current versions best attribute — added interior ambient lighting, and engaging to drive. What else could families want? Well, a backseat big enough to fit all manner of child-safety seats. That's what!
The 2011 Avalon's second row accommodated three — yes, three! — car seats and had a large reclining backseat and a flat floor in the second row, so it's really a dream for families. This new Avalon has similar rear room but no reclining backseat. We'll have to wait for a Car Seat Check to see if that keeps it from getting three car seats in the second row.
What if Mom or Dad wants to be seen in a luxury car? There were two newly redesigned sedans that debuted at the New York auto show for them, too.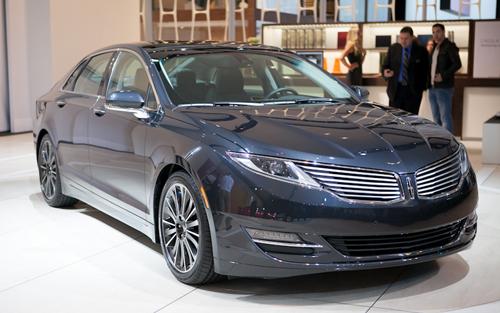 Lincoln's all-new 2013 MKZ received a major overhaul that turns heads. I wasn't able to get into the MKZ, but it would appear that rear legroom is decent — again I wonder about those child-safety seats. Front passengers will have lots of storage options.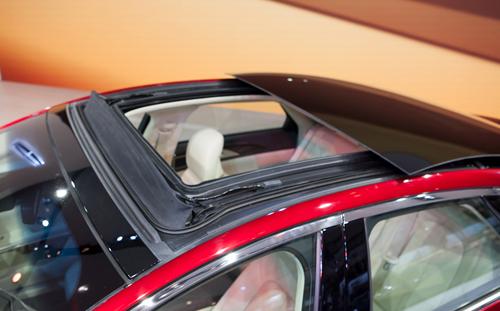 My favorite feature is the ginormous power-retractable glass roof. The sloped roofline helps the car look great, but it may lead to head-bonking when putting younger kids in their car seats. No kid likes getting their head hit on the roofline when Mom or Dad is loading them into their child-safety seats.
The Lexus ES had been the standard in affordable luxury sedans, but isn't really considered by most families. The redesigned 2013 ES does have Lexus' new spindle grille that wows on the GS sport sedan, so I guess that works, and the car looks sportier.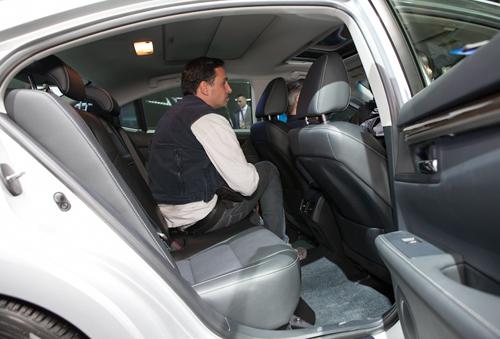 On the inside, the ES 350 features leather and wood, and parents will enjoy the luxurious environment. Backseat passengers will appreciate the window shades. If I sound like a broken record, please forgive me, but I don't know whether rear-facing seats will work in the new ES either. Because it's based on Toyota's new Camry I'd think it will perform similarly to that car's Car Seat Check, which had room for rear-facing car seats, but we'll have to wait and see.
It seems that sedans fell off my mom-radar because of the car-seat-fit question. When my kids were infants and toddlers, I always hit my head on the door when getting them into their child-safety seats, so I opted for a crossover when I needed to purchase a new car.
Now that new sedans are getting roomier, it's a good time to revisit what a nice option they can be.