Audi To Show RS Q3 Concept at Beijing Motor Show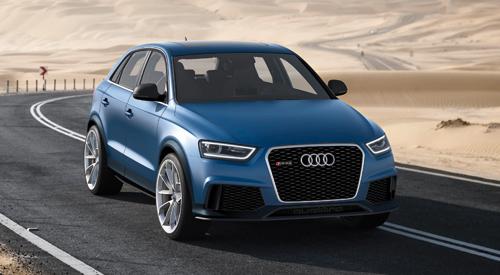 Audi recently announced that its tiny Q3 crossover will hit U.S. shores in the 2013 calendar year and showed off a concept version at the 2012 Detroit auto show. The automaker plans on debuting a second concept at the Beijing Motor Show next week.
Dubbed RS Q3, the performance-oriented concept is the first SUV to use Audi's sport-themed RS badging. The concept is dressed in matte blue paint with tinted headlights and rides on 20-inch wheels; it also has a lower ride height than traditional Q3 models. Carbon fiber trim peppers the exterior, including its honeycomb grille, spoiler, side mirrors and wheel arches.
Inside, the black and blue theme continues with black leather seats and surfaces trimmed with blue Alcantara simulated suede. Blue-tinted carbon fiber accents also line the dashboard and steering wheel.
The concept borrows power from Audi's TT RS performance coupe: a turbocharged 2.5-liter five-cylinder engine. It makes 360 horsepower in this application. Audi says the concept is capable of doing zero to 100 km/h (62.14 mph) in 5.2 seconds; it has a top speed of 164 mph.
The last Q3 concept to meet the public was the Q3 Vail. The crossover concept featured special accessories like a ski rack, unique interior trim and a 314-hp, turbocharged five-cylinder engine.
The Q3 will slot below the Q5 in size and price and is already on sale in Europe. It uses diesel and gasoline engines, including the turbocharged 2.0-liter engine and 2.0-liter turbo diesel engine familiar from Audi's U.S. vehicle lineup.