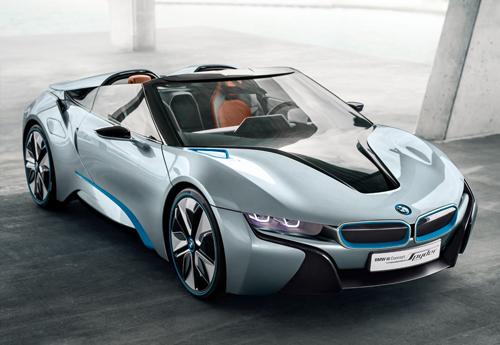 Looks like: Ethan Hunt can get a tan in the next "Mission: Impossible" movie
Defining characteristics: Hybrid power plant, sci-fi looks
Ridiculous features: Motorized scooters where a trunk should be
Chances of being mass-produced: Good
We were blown away when BMW announced the original i8 concept. Not just because it was wild looking and featured a performance plug-in hybrid power plant, but because the company says it plans to build it by 2014 ... pretty much as is.
That's why we should pay even more attention to the Spyder version. BMW has altered what was once a concept-car dreamscape interior into one that resembles current BMWs on dealer lots. The iDrive controller, shifter and navigation screen all look more like their production counterparts while the color schemes for the trim and leather seating do the same.
What's not ready for prime time are the two electric scooters in the cargo area. For some reason, BMW thinks folks dreaming of a hybrid sports car — that will likely take 1 percenter money to buy — are going to hop on their scooters once they park their i8. Yeah.
At least the powertrain information remains relatively the same as last year's details. That is a good thing because it makes us believe that BMW sees the 223-horsepower, turbocharged three-cylinder gas engine — powering the rear wheels — and 131-hp electric motor powering the front wheels as a reality.
The i8 is also a plug-in hybrid that can travel 20 miles on electric power alone and take two hours to charge.
That doesn't mean it's anemic. With a zero-to-62-mph time of 5.0 seconds and a combined mileage rating of 94 mpg, the i8 should satisfy eco-conscious speed demons.
The fact that this version is a convertible version is almost lost, but it changed the overall look, especially over the rear. You lose the two rear seats as well, but was anyone going to shuttle kids or friends anywhere in this?