Chattanooga: VW's Next Stand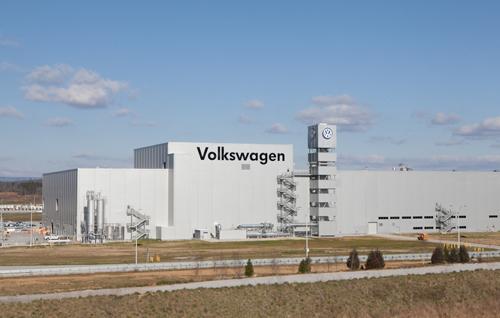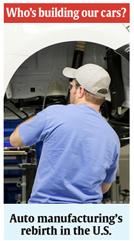 Chattanooga, Tenn. — Honda wasn't the first foreign automaker to open an assembly plant in the U.S., but it was the first to stay.
In 1978, German automaker Volkswagen converted an unfinished Chrysler plant in Westmoreland County, Pa., to build the Rabbit, but like the lost Roanoke outpost in pre-Colonial Virginia, the plant failed.
With a brand-new plant now open in Chattanooga and producing more than 600 Passats a day, Volkswagen officials say they have learned from the painful lessons of Westmoreland. They've used that knowledge to build a plant they believe will be a force in U.S. automotive manufacturing for years to come.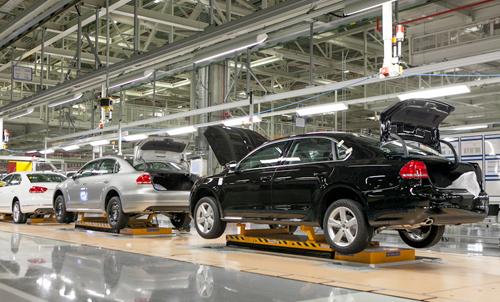 As Honda and other automaker plants have cropped up around the U.S., "we looked at our own experience [at Westmoreland] and we looked at others' experiences, and then, you know, when you look at the complexity of the project, we found our own way," said Frank Fisher, CEO of VW's Chattanooga operations.
To be a success in Chattanooga, VW looked to its four pillars: product, plant design, parts and people.
"For each of these pillars," Fisher said, "we developed our own approach, taking from what we have experienced at Westmoreland, what other companies have done, and what we felt from our perspective we should do."
While what happened to the Roanoke colony remains a mystery, what happened at Westmoreland is not: All four of VW's pillars collapsed:
The product was flawed. The Rabbit had quality issues and "we Americanized the vehicle in a way that our customers didn't like it at all," Fisher said.
The plant wasn't planned by VW. Instead of being built from scratch to do what VW needed it to do, it was an unused Chrysler plant with a structure already in place.
The people were outsourced. VW hired an ex-GM official, and "VW's leadership perception at that time was, 'they know how to build cars, so they'll be able to launch a factory and build cars here,' " Fisher said. "There was some antagonism between the production guys, maybe even the R&D guys, at headquarters and in the plant here. They didn't work very well together."
In the end, parts blew up the project. "The final burden came when the dollar got pretty weak," Fisher said, "and the level of parts that had to be imported was much, much higher than in our (Chattanooga) project. This was why our project had a very strong focus in localizing parts."
The German automaker was determined not to make the same mistakes with its Chattanooga plant. When VW returned to the U.S., it was going to do things differently.
Meanwhile in 2008, officials for Chattanooga and Hamilton County, Tenn., were eager to find an automaker to take over a manufacturing site.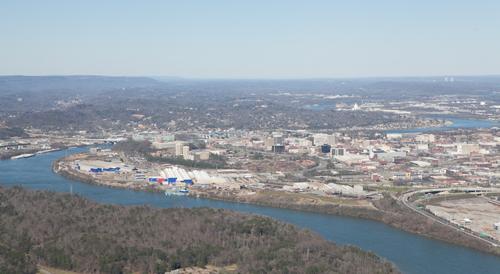 While Chattanooga, a "Rust Belt city of the South," had seen improvements since its industrial heyday, more work needed to be done.
"We've spent over the last 40 years quite a bit building ourselves out of the deep pit that we were in when Walter Cronkite told the world that we were the dirtiest city in American 40 years ago, said Chattanooga Mayor Ron Littlefield.
"From a quality of life sense, we feel like we've done a pretty good job of building the city back, but the thing it was lacking was a manufacturing heart."
But the city and county had an ace up their sleeves for a heart transplant: a prime site with significant transportation access and lots of open land. Railroad tracks run nearby; the airport is only a short distance away, and Interstate 75 — "one of the Main Streets of America" as Littlefield called it — is not far from the site. In the mid-2000s, Toyota came calling, needing a home for a new assembly plant.
"If ever there was a classic site for heavy industrial investment, that was the site, and so that's what we had pitched to Toyota," Littlefield said. "We were a little crestfallen for having missed that one, but it turned out to be the best for us."
In 2006, the city's last major foundries had closed, idling hundreds of workers, "and so people thought that was the end of heavy industry in Chattanooga," he said. To make matters worse, Toyota opted to pick a site in Mississippi instead.
It wasn't only manufacturing that dried up in Chattanooga. As in the rest of the country, construction was down. "Before VW showed up, I spent the last 25 years in the building industry in this area, and it got pretty bad," said Dale Cross, a team leader at Volkswagen's Chattanooga plant. "Housing development ceased to exist, almost. A lot of people were looking for work, and I was one of them.
"As far as Chattanooga at that time goes, we had been losing industry rather than gaining anything," Cross said.
So, city and county officials approached Volkswagen at the 2008 North American International Auto Show in Detroit. That ignited a "fast and furious process," Littlefield said. By the middle of 2008, the decision to build there was made, and "as they say, the rest is history," he said.
For Volkswagen, getting the pillars right this time — building a lasting presence — was critical. When it came to product, plans for the new U.S. version of the Passat were already under way before the plant was started. While launching any new car is always a tricky proposition, VW has been happily surprised by the positive response the Passat has drawn.
"I think, frankly, the success we are having now nobody really expected," Fisher said. That success includes a number of awards from around the auto industry, including Cars.com's Best of 2012 award and MotorTrend's Car of the Year.
The plant was designed to make employees more efficient and the plant itself greener. The basics:
VW has made a $1 billion investment into the plant.
The plant sits on 1,400 acres northeast of downtown Chattanooga.
Roughly 2,200 jobs were created when the plant opened, and another 800 jobs are being added.
As it sits now, the plant has a capacity for 150,000 Passats a year, but the site's footprint can be doubled, allowing for more production if demand calls for it.
It's a plant of "short distances," which means all the manufacturing areas come together in a smaller area, making communication better and more frequent.
There's a focus on quality assurance, with portions of the plant devoted to testing so continual improvements can be made. In addition, VW gets feedback from consumers and dealers and works quickly to identify and fix problems.
There are many aspects to the plant that make it environmentally friendly; these efforts won the plant the Leadership in Energy and Environmental Design Platinum certification in December 2011. It is the only auto manufacturing plant in the world to win that designation, VW says.
In terms of people, VW wanted to accomplish a couple of things. First, it wanted to continue good will with the community by focusing its hiring on Chattanooga and Hamilton County. Officials saw a large, well-educated workforce here. Second, company officials wanted to make sure that employees were trained in the Volkswagen way, which didn't happen in Westmoreland. Employees spend weeks in the VW Academy before they step onto the plant floor.
It wasn't easy to get a job, though: 85,000 people applied for the 2,500 initial jobs.
"I didn't even really think I had a chance," said Curtis Wilson, a team leader at the plant. He had no automotive manufacturing background. "I thought it was going to be a lot of people coming down from the North coming down here to work."
It was a little "like winning the lottery," Cross added.
As for parts, VW has set up some suppliers on the factory's grounds. Six hundred people are employed by those suppliers and a much higher percentage of parts come from the U.S., so Volkswagen is less susceptible to currency swings.
VW is taking an optimistic, but wary, stance on its future in Chattanooga, Fisher said.
"We want to go one decision before the next," he said, "but given the success so far, I would really expect a second model in the near future."
The Westmoreland experience clearly has VW taking its time in an effort to get this right. "The worst thing you can do in your life is to be arrogant and ignore facts," Fisher said. "As our CEO says: Please always stay on the ground."
Mayor Littlefield says he thinks VW is on the right track. "Unless the whole world stumbles again, we think that things are really going about as well as we could have hoped for.
"What VW has done is installed a new heart, a new economic heart."
This story is part of a joint series about automotive manufacturing in the U.S. by Cars.com and USA Today.