Many Automakers' Latch Systems Difficult to Use, Study Finds
Installing a child-safety seat can be a difficult and automakers aren't making it any easier with their Latch systems, according to a new study.
The study evaluated 98 of the best-selling passenger vehicles from the 2010 and 2011 model years and found that only 21 of them had easy-to-use Latch systems. The Lower Anchors and Tethers for Children system, which is found in cars from the 2003 model year and on, standardizes the in-car equipment for car-seat installation.
It's supposed to make it easier for parents to get the proper car-seat fit and ensure that the child riding in the car seat is protected in a crash.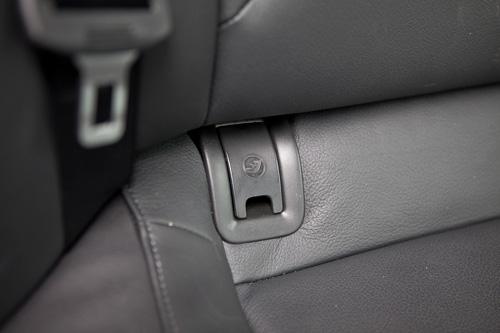 In the joint study conducted by the Insurance Institute for Highway Safety and the University of Michigan Transportation Research Institute, researchers looked at Latch hardware and backseat designs in vehicles to determine what's needed to make the Latch system's lower anchors and top tether anchors easier for parents to use.
Depth: Lower anchors should be easy to see and no more than three-quarters of an inch into the seat bight, where the back and bottom cushions meet.
Clearance: There should nothing in the way of the anchors. Often, seat belt buckles or seat cushioning obstructs access to the anchors. The researchers say there should be enough room around the lower anchors to approach them at an angle or straight-on.
Force: When anchors are deeply buried in the seat bight or items are obstructing access to the anchors, parents must use a lot of force to get at them. The researchers recommend that parents be able to install a car seat using less than 40 pounds of force.
In our Car Seat Checks, we look at all these factors when testing a car's Latch system. In the two years that we've been performing our checks, we've installed three child-safety seats — a high-back booster seat, a forward- and rear-facing convertible and a rear-facing infant-safety seat — in 200 cars. We've found that the list of cars that get the Latch system right have the three factors identified above. The lower anchors are easy to find and access, nothing is obstructing them and it doesn't take a lot of effort to properly install a car seat.
"These are things that automakers can do to improve child restraint installations, and most of them aren't hard," said Anne McCartt, the Institute's senior vice president for research and one of the report's authors. "Lower anchors can be designed so they are easy to use."
In the study, volunteers installed car seats in the test cars, and certified car-seat technicians evaluated the volunteers' installations. All the volunteers used child-safety seats in their own vehicles.
While top tether anchors are often easier to use than lower Latch anchors, many parents forget to use them when their child moves into a forward-facing car seat. "With tethers, the main issue is use, not usability," says Kathy Klinich, assistant research scientist at UMTRI and the study's lead author. "Many parents don't realize they are supposed to use the tether."
Listed below are the models that passed the study's test and feature all three of the easy-to-install criteria and those that failed to meet any of the criteria.
Meet easy-installation criteria
Don't meet any easy-installation criteria