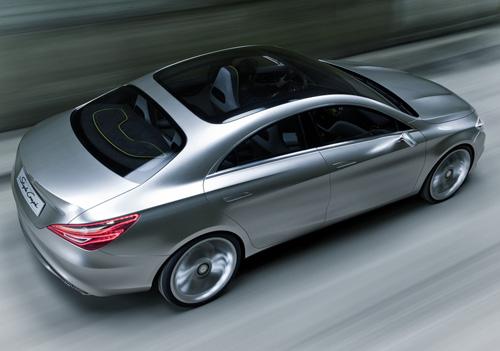 The carmaker who first made the fastback, four-door coupe body style popular — with its 2005 CLS-Class — looks to capitalize on its success with a new compact four-door coupe. The Mercedes Concept Style Coupe will be unveiled at the Beijing Motor Show later this month.
The concept is a small sedan with a steeped roof and uses Mercedes' next-generation styling cues. To us, all we can see here is the A-Class Concept, shown last year at the 2011 New York Auto Show. It's possible that this is a four-door coupe body style version of the A-Class hatchback. Like the U.S., Chinese car shoppers prefer sedans over hatchbacks. If Mercedes ends up making this car, and there's a strong indication they intend to since the automaker is referring to the concept as "almost production-standard" in its release, it's possible that the compact will also come to the U.S.
The Concept Style Coupe is powered by the same motor found in the A-Class, a 2.0-liter turbocharged four-cylinder, and features an all-wheel drive 4MATIC system.
Tell us what you think of the concept, and whether it should come to the U.S., in our comments section below.