Porsche Adds Diesel Engine to 2013 Cayenne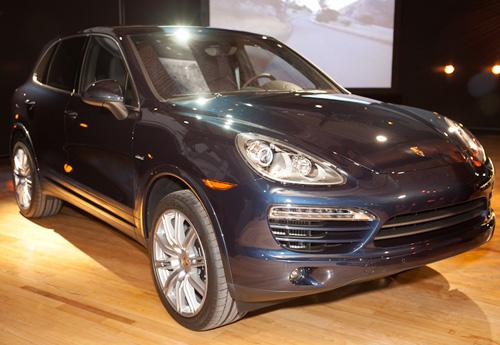 Porsche's first diesel engine for the U.S. market makes its debut in the 2013 Cayenne SUV. With an estimated 20/28/23 mpg city/highway/combined, the Cayenne Diesel should get 21% better fuel economy than a base Cayenne with a gas V-6 and an automatic transmission. It hits dealerships this fall with a starting price of $55,750 plus a destination fee.
More 2012 New York Auto Show Coverage
Power comes from a 240-horsepower, turbocharged 3.0-liter V-6 diesel engine that makes 406 pounds-feet of torque at 1,750 rpm. The engine works with an eight-speed automatic transmission and standard all-wheel drive. Porsche cites a zero-to-60-mph time of 7.2 seconds, a top speed of 135 mph and a driving range of 740 miles, which is longer than most passengers will be willing to tolerate in one sitting. Towing capacity is a healthy 7,700 pounds.
Porsche has offered a Cayenne Diesel in Europe for a few years, but that model doesn't include the U.S. version's selective catalytic reduction system, which meets this country's stringent diesel-emissions standards. The system includes a tank under the cargo floor for AdBlue fluid that's injected into the exhaust stream to help neutralize nitrogen oxides. Product manager Mike DePetro said the refill interval for the AdBlue fluid is 10,000 miles -- same as the diesel engine's oil-change interval.
Porsche already has an efficiency-focused version of its SUV with the Cayenne Hybrid, but the Cayenne Diesel raises the bar with expected fuel economy that's 4 mpg better on the highway and a base price around $13,000 less. With that type of position in the Cayenne lineup, Porsche's expected 10 to 15% sales mix for the diesel seems attainable.