Two Hyundai Santa Fes, Both Aimed at Families

Hyundai's Santa Fe, a midsize crossover, was in dire need of a redesign, and its larger sibling, the three-row Veracruz was all but forgotten by family shoppers. At the 2012 New York auto show, the automaker fixed both problems with an unexpected twist.
More 2012 New York Auto Show Coverage
The old Santa Fe — now called the Santa Fe Sport — and two-row crossovers like it are delivering relatively the same package to family shoppers, but with each new Hyundai redesign, the automaker tries to slightly outdo the competition. In the Santa Fe Sport, the company points to a quieter cabin; adding features like a proximity key with push-button start; installing sliding second-row seats with increased legroom (allegedly more than the Nissan Murano). That's nice but not unusual in family crossovers. However, the Santa Fe Sport's 40/20/40-split folding second row is. To top it off, the crossover also has YES Essentials seat upholstery; any parent who's had this product in a Chrysler minivan can attest that it's easy to clean.
The Santa Fe Sport will have those features plus a four-cylinder engine that will get an estimated 33 mpg highway. If you want to make some sacrifices on the mileage front, you can get a turbocharged four-cylinder with more power.
Today, an automaker needs a competitive three-row crossover to satiate larger families. Surprise! Hyundai is using the Santa Fe name — sans the Sport moniker — on a longer wheelbase big brother to the Santa Fe Sport. With a "true third row," the new Santa Fe is a seven-passenger crossover; it'll seat six if you opt for the second row captain's chairs. Third-row comfort is also enhanced with dedicated ventilation back there. Functionality exists in the form of a 50/50-split third row.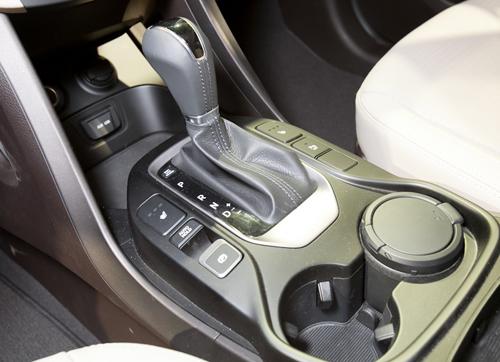 Are any crossovers complete without an arsenal of cupholders? Both models will have eight, and both also will have optional heated seats.
Will the Santa Fe duo do enough to win over families big and small? We'll have to wait until summer to test-drive the Santa Fe Sport. For the bigger Santa Fe the wait is a little longer. It arrives at dealerships in January 2013.
Sara Lacey is a Cars.com Family contributor.