Volkswagen Alltrack Concept at the 2012 New York Auto Show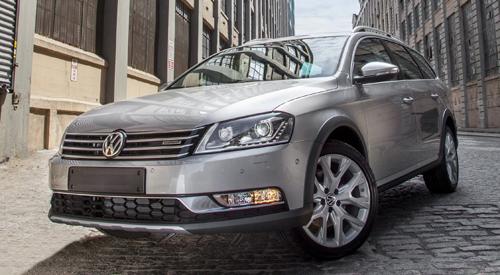 Looks like: Volkswagen is teasing U.S. consumers with a European-market off-road-ready wagon
Defining characteristics: Diesel engine, all-wheel drive, extra ground clearance
Ridiculous features: None to speak of, unless you consider the idea of an off-road wagon ridiculous
Chance of being mass-produced: VW says there are no plans to bring the Alltrack to the U.S.
Volkswagen's luxury brand, Audi, has a history of building off-road-ready wagons with its Allroad line; VW follows suit with the debut of the Alltrack concept. The car is based on the Passat Alltrack sold in Europe, but Volkswagen says the concept is only meant to gauge reaction and not intended for the U.S.
More 2012 New York Auto Show Coverage
Despite plastic cladding around the wheel openings and revised bumper styling, the Alltrack remains more wagon than crossover in appearance. To improve the car's off-road potential, Volkswagen has increased its ground clearance by 1.2 inches, added steel skidplates to protect the underbelly and fitted the car with an off-road-driving program for the 4Motion all-wheel-drive system.
Available at speeds up to 18 mph, the off-road program modifies the intervention threshold for the antilock brakes, shortens the reaction time of the electronic differential locks to limit wheelspin, and reduces the sensitivity of the gas pedal for better control at low speeds.
Power comes from a familiar source: Volkswagen's turbocharged 2.0-liter diesel engine. The four-cylinder makes 140 horsepower and 236 pounds-feet of torque and teams with a six-speed dual-clutch automatic transmission.